Putin turns to India with energy, defense offers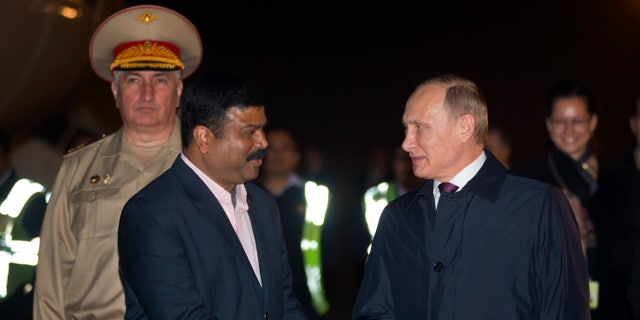 NEW DELHI – Russian President Vladimir Putin was holding talks with Indian leaders Thursday to strengthen trade and energy cooperation with Asia's third-largest economy as Western sanctions threaten to push his country's economy to the brink of a recession.
Putin's discussions with India's Prime Minister Narendra Modi are expected to focus us on deepening ties at a time when New Delhi is perceived to be drawing closer to the United States, especially in areas such as defense and investment.
Indian officials said nearly two dozen agreements on space, defense cooperation and energy were likely to be signed.
"Looking forward to a productive visit that will take India-Russia ties to newer heights," Modi tweeted.
Putin's visit comes as Russia is faced with plunging global oil prices and a depreciating rouble that has battered the economy.
Russia's relations with the Western nations have plummeted since it annexed Ukraine's Crimean peninsula in March. The United States and Europe have imposed sanctions for what it says is Moscow's role in providing Ukrainian militants with personnel and arms, something Moscow denies.
The annual summit meeting would provide an opportunity for the two nations to take stock of the "special and strategic partnership" that the two countries enjoy, said Ajay Bisaria, the top official in India's Ministry of External Affairs.
"This is a very significant visit," said Bisaria. "Russia is a long-standing and a steadfast partner for India."
During the Cold War decades, India and the Soviet Union shared a close relationship, while the United States tilted toward India's neighbor and rival, Pakistan, especially in the dispute between the two South Asian countries over the Himalayan region of Kashmir.
India was a key customer for Russian weapons during the Soviet era, purchasing military hardware worth billions of dollars.
India has become the world's biggest arms importer, with an economic boom enabling it to modernize its military. New Delhi's has a huge shopping list including fighter aircraft, tanks, submarines and other defense equipment that Moscow hopes to sell.
In recent years India has tried to diversify its defense purchases, buying military hardware from the United States, Israel and France. Last week India said it was very close to clinching a $15 billion deal with France for 126 fighter aircraft.