Putin taunts West with humanitarian convoy in eastern Ukraine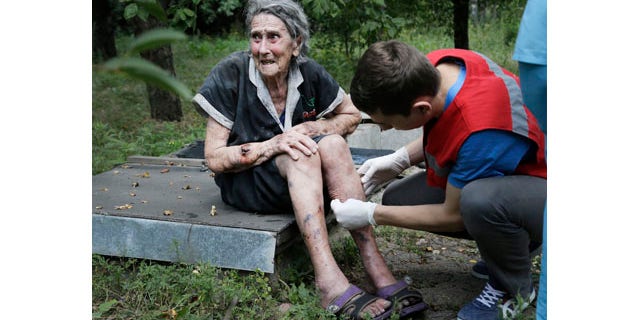 NEWYou can now listen to Fox News articles!
The Kremlin announced Monday it will send a humanitarian convoy into embattled eastern Ukraine, despite previous warnings from the West against such a provocative move.
Just as Ukrainian government forces closed in on recapturing the last major stronghold of pro-Russian separatists in the city of Donetsk Monday -- Russia issued a statement saying said it will send a convoy into the region in cooperation with the International Red Cross. The statement didn't elaborate on when the convoy would leave or provide any other details.
It wasn't immediately clear if Russia has reached agreement with Ukraine on the issue, or if it has decided to move unilaterally. Shortly after the Kremlin statement was released, the office of Ukrainian President Petro Poroshenko announced he was on a call with President Barack Obama.
Ukraine has objected to Russia sending any aid to the region, and the West has strongly warned Russia that any attempt to send its military personnel into Ukraine under the guise of humanitarian assistance would be seen as an invasion.
The Kremlin statement was made in readout of a telephone call between Russian President Vladimir Putin and European Commission chief Jose Manuel Barroso.
Barroso's office said in a statement after the call that he warned Russia "against any unilateral military actions in Ukraine, under any pretext, including humanitarian."
There was no immediate comment from the Red Cross.
Also Monday, a Ukrainian security spokesman denied rebels' claims that government forces fired a rocket that exploded inside a high-security prison in Donetsk, causing a riot and more than 100 inmates to escape.
At least one inmate was killed and several others were wounded in the attack, Donetsk city council spokesman Maxim Rovinsky said Monday.
In the chaos, he said 106 prisoners escaped, included some jailed for murder, robbery and rape.
Ukrainian government forces have intensified their military operations and surrounded Donetsk-- the largest city in rebel-held eastern Ukraine-- in the past week. Exchanges of rocket fire and deaths from shelling have become a feature of daily life and hundreds of thousands have chosen to flee.
The Ukrainian army's strategy has focused on encircling Donetsk and nearby rebel towns, and breaking off road links with other separatist towns and villages further east, closer to the Russian border.
Rebels routinely accuse government forces of using heavy artillery in their campaign to retake Donetsk. But Ukrainian security spokesman Andriy Lysenko blamed the prison strike on separatist fighters.
"Bandits in Donetsk shelled residential quarters and correctional facility No. 124," he said.
Prisoners said the rocket hit their building late Sunday night. The prison break became possible after a substation providing the building with electricity was damaged, disabling the facility's alarm system.
"Extremely dangerous prisoners are now free. It is hard to know the extent of threat this poses to the city, which is flooded with weapons," Rovinsky said.
"At around 10 p.m., after lights went out and the prisoners began heading to their sleeping quarters, a rocket hit this place," said one prisoner, who gave his name as Vova Kordemansky. "Nobody was in this room, but one guy downstairs had his head blown off."
Officials with Ukraine's state penitentiary service said later Monday that 34 prisoners had returned to the jail. It was not immediately possible to verify that claim.
The New York Times reported that Sunday saw the government's most intensive bombardment yet of Donetsk as rebel strongholds in three districts of the city were targeted. According to city council spokesman Maxim Rovinsky, at least one person was killed and 10 injured in shelling overnight, as more than 10 residential buildings, a hospital and a shop were heavily damaged in the fighting.
Few civilians dared to venture outside as explosions rang out every few minutes and burnt-out buses and buildings smoldered from the night before.
On Monday, a military spokesman told Reuters that Kiev's forces had cut Donetsk off from Luhansk, the other rebel-held city in eastern Ukraine, and were preparing a final push to take total control of the city.
"The forces of the 'anti-terrorist operation' are preparing for the final stage of liberating Donetsk," Andriy Lysenko said. "We are working for liberating both [Donetsk and Luhansk] but it's better to liberate Donetsk first - it is more important."
Rovinsky said that he believed 100,000 people had left the city of one million in the past week alone — adding to the 300,000 who were already estimated to have fled. He said at least 10,000 people were without electricity, and that the local government was working hard to preserve access to gas, electricity, and phone service and "avoid a humanitarian crisis."
More than 1,300 people have died in the conflict since April, according to a U.N. estimate.
"This is a real war! It's impossible to live in this city, I've been sleeping in the basement for the past week," said Inna Drobyshevskaya, a 48-year-old lawyer in Donetsk.
"We don't want Novorossiya (New Russia) for this price," she added, referring to a term used by rebels to describe the parts of eastern Ukraine seeking independence from the government in Kiev.
Both Ukrainian government forces and the pro-Russian rebels who want independence for their eastern region have deployed heavy and often imprecise weapons in the battle that began in April.
In a statement Saturday, newly elected rebel leader Aleksandr Zakharchenko appeared to call for a cease-fire without stating any preconditions. But on Sunday, rebel spokeswoman Elena Nikitina repeated the rebels' earlier stance, telling the Associated Press that talks on the conflict could only begin if the Ukrainian army withdrew from the region — something Kiev is unlikely to do.
She also denounced the government as "incapable of negotiating."
Ukraine's National Security and Defense Council spokesman Andriy Lysenko said that the only way for the rebels in Donetsk to save their lives would be to "lay down their arms and give up." He said the Ukrainian side hadn't seen the rebels show any real willingness to cooperate.
"If white flags come up and they lay down their arms, nobody is going to shoot at them," he said. "(But) we have not seen any practical steps yet, just a statement."
Many of those in Russian-speaking eastern Ukraine distrust the new central government in Kiev, which came to power after the February ouster of former President Viktor Yanukovych, whose power base was in eastern Ukraine.
Ukraine's insistence on the rebels' unconditional surrender has raised fears that Russia would invade to relieve the beleaguered rebels in the guise of a humanitarian operation. Western leaders believe that approximately 20,000 Russian troops are massed near the border with Ukraine and have repeatedly warned Moscow that such an operation would result in heavy economic sanctions.
NATO chief Anders Fogh Rasmussen told Reuters Monday he saw a ``high probability'' that Russia could intervene militarily in eastern Ukraine, and that NATO sees no signs that Moscow is pulling back thousands of troops deployed near the Ukrainian border.
`Any Russian intervention under the guise of a humanitarian mission would be unjustified and illegal,'' Rasmussen said.
The Associated Press contributed to this report.
Click for more from The New York Times.