Putin praises Russian GRU military intelligence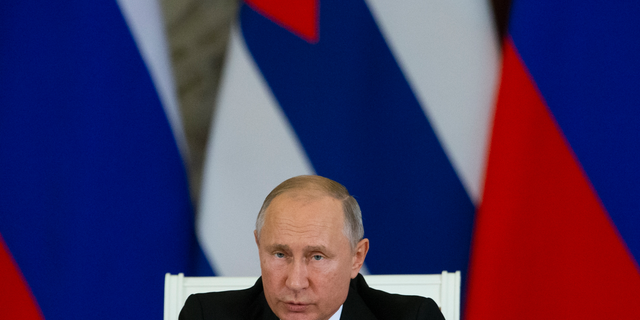 MOSCOW – President Vladimir Putin congratulated Russia's military intelligence, GRU, on its centenary Friday, hailing the agency that has been accused of meddling and violence by the West.
"I'm confident of your professionalism, courage and determination," Putin said in a speech to GRU officers.
Putin said he highly appreciates intelligence information and analytics provided by the GRU and also praised the agency for its action in Syria, saying it strongly contributed to the success of Russia's campaign there.
The United States and its allies have accused the GRU of involvement in the March nerve agent attack on a Russian ex-spy in Britain and also of hacking the 2016 U.S. presidential campaign and disrupting anti-doping efforts in sport. Russian authorities have rejected the accusations, calling them part of a Western smear campaign.
Putin made no reference to Western accusations against the GRU, but noted rising global tensions.
"The conflict potential in the world is growing," Putin said in Friday's speech. "There are provocations and blatant lies, as well as attempts to upset strategic parity."
The GRU has recently faced a series of exposures that revealed its inner workings.
In September, British intelligence released surveillance images of GRU agents accused of the March attack on former GRU officer and British double agent Sergei Skripal and his daughter in Salisbury. Investigative group Bellingcat and Russian site The Insider quickly exposed the agents' real names.
Dutch authorities also have recently identified four alleged GRU agents who tried to hack the world's chemical weapons watchdog from a hotel parking lot.
While the GRU counts its history from 1918 when it was created in the wake of the Bolshevik revolution, Putin also mentioned its predecessors in the old imperial Russia.
He noted that some imperial army officers helped the Bolsheviks organize military intelligence after the 1917 revolution.
"They realized that there is no worse shame than to betray the Motherland, betray comrades, and at the time of turmoil and revolutionary upheavals helped preserve the continuity of the service's traditions," he said.
Putin added that "military intelligence officers showed the same loyalty to their duty in the early 1990s following the breakup of the Soviet Union, helping preserve the GRU potential."