Putin opponent says its her 'dream' for Russian women to hold a women's march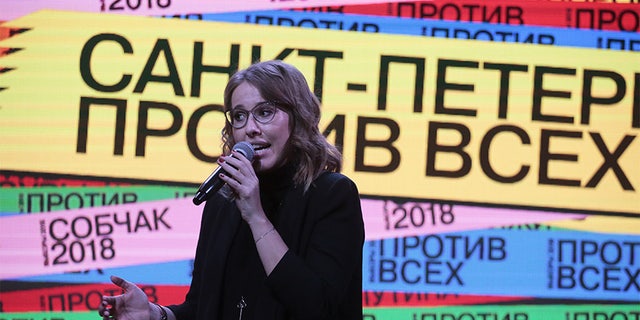 NEWYou can now listen to Fox News articles!
A rival to Russian President Vladimir Putin in this year's upcoming election said it would be her "dream" for Russian women to hold a Women's March, despite the country's "conservative kind of thinking about women."
Ksenia Sobchak, a 36-year-old celebrity TV host, told Buzzfeed's "AM to DM" on Friday she hopes her run for president will inspire women to break the culturally conservative mold and organize a women's march similar to the ones held in January throughout the U.S., The Hill reported.
"I have a dream. I want one day to see a big women's march as it was here in America," she said.
But Sobchak acknowledges that she faces an upward battle as woman in politics.
"In Russia, unfortunately, we have a conservative kind of thinking about women, and for many, it's totally unacceptable that a woman can be a politician and can run for [the] presidency," she said.
Sobchak is one of Putin's top rivals, however it is unlikely she will be able to unseat a man who enjoys a job approval rating of more than 80 percent and who receives only positive coverage on state-run national TV.
Sobchak said in her interview that being underestimated by Putin could be beneficial for her.
"He underestimates me, and that's good for authoritarian rule because that gives me an option to come legitimate to Russian politics, to create a party, to do something that will really change the situation."
Sobchak is one of eight candidates registered for Russia's March 18 presidential election.
The Associated Press contributed to this report.