Putin gives top job to tank factory worker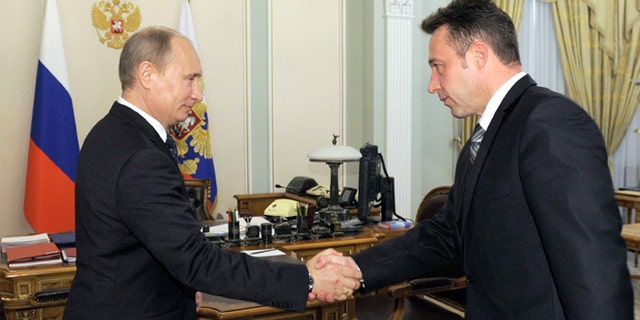 MOSCOW – President Vladimir Putin on Friday gave a senior government post to a tank factory worker who had offered to come to Moscow with fellow laborers to disperse opposition protests.
Putin said he would make Igor Kholmanskikh the presidential envoy to the Ural Mountains region, saying the job will help him protect the interests of workers.
Kholmanskikh, a section head at the Uralvagonzavod factory that builds battle tanks in the Urals city of Nizhny Tagil, became widely known when he denounced anti-Putin protesters during a live TV program in December in which Putin took call-in questions. He said he and colleagues would help clear the streets of demonstrators if police couldn't.
Putin won a third presidential term in March's vote despite a series of unprecedented protests against his rule that drew more than 100,000 people to the streets of Moscow. During his campaign, Putin cast the mostly middle-class protesters as rich, coddled urbanites manipulated by the U.S. He focused mostly on his core support base of blue-collar workers, farmers and state employees.
Putin's government has toughened its stance since his victory. A protest of at least 20,000 a day before Putin's May 7 inauguration turned into a fierce battle with police as some of the protest participants tried to march on the Kremlin. Scores were injured in clashes between stone- and bottle-throwing demonstrators and police who fought back with truncheons and tear gas.
In the next few days, police chased opposition activists around the city, rounding up hundreds on the streets and in cafes.
Seeking to maintain momentum, the opposition set up a camp in central Moscow that survived for a week before police dispersed it Wednesday. A new camp erected at another square across the capital has survived so far, but has faced police raids and detentions.