Putin dismisses claims Russia was involved in spy's poisoning as 'nonsense'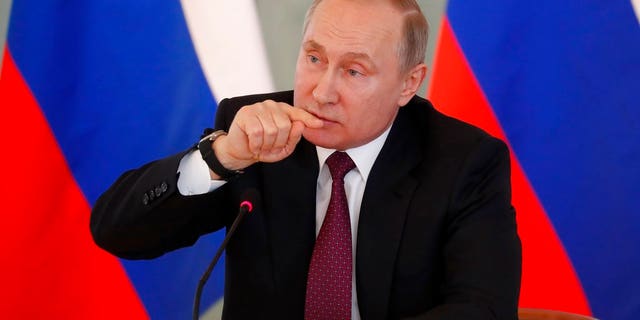 Straight off his controversial presidential election win, Vladimir Putin is calling accusations of Russia's involvement in the poisoning of an ex-spy as "nonsense."
Putin, who was re-elected to another six-year term as president on Sunday, said that it was "nonsense" to think that anyone in Russia could have coordinated the attack, which left former double agent Sergei Skripal, 66, and his daughter, 33-year-old Yulia, in critical condition.
EX-RUSSIAN SPY SERGEI SKRIPAL POISONED: WHAT TO KNOW
It's believed the two were poisoned by a nerve agent in a "targeted" act in Salisbury two weeks ago, investigators said. British Prime Minister Theresa May said it was "highly likely" Russia was responsible for the poisoning.
"This attempted murder using a weapons-grade nerve agent in a British town was not just a crime against the Skripals, it was an indiscriminate and reckless act against the United Kingdom, putting the lives of innocent civilians at risk," May said last week.
May also said the nerve agent used against the former spy and his daughter is called Novichok, a weapon that was developed in the Soviet Union at the end of the Cold War.
Putin said that Moscow would cooperate with the U.K. in an investigation of the poisonings, calling them a "tragedy." However, Putin said that if the claims that they were poisoned by the Soviet-designed nerve agent were true, the victims would've died instantly.
"Russia does not have such [nerve] agents," Putin said, according to The Guardian. "We destroyed all our chemical weapons under the supervision of international organizations and we did it first, unlike some of our partners who promised to do it, but unfortunately did not keep their promises."
Putin added that he thinks "any sensible person would understand that it would be rubbish, drivel, nonsense, for Russia to embark on such an escapade on the eve of a presidential election."
Fox News' Travis Fedschun, Katherine Lam and The Associated Press contributed to this report.