Putin backs plan to establish Russian military base in Belarus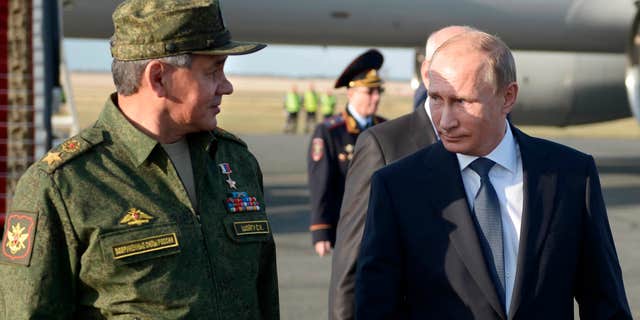 Russian President Vladimir Putin move forward with his plan to establish a Russian military base in neighboring Belarus – a move sure to unnerve Poland and Baltic nations.
Though Belarus has maintained that it wouldn't welcome a Russian base, the former Soviet republic remains dependent on Moscow for credit and energy.
Putin ordered the Russian Defense Ministry, with the participation of the Russian Foreign Ministry, to hold talks with their Belarusian counterparts and sign the agreement that is reached.
Putin said in a statement he had agreed to sign a deal for the base and ordered defense and foreign ministry officials to start talks with Belarus, according to Reuters. The plan isn't expected to face any major obstacles.
Reuters reports the plan to put an airbase in Belarus was revealed by Russian Defense Minister Sergei Shoigu in 2013 and follows an agreement signed in 2009 which the two countries agreed to defend their common external frontier and airspace.
Belarusian President Alexander Lukashenko has yet to comment on Putin's latest initiative. The two sides met Friday in the southern Russian city of Sochi.
Russia has radar and a navy communications facility in Belarus, but this wouldn't be its first base. Belarus is a prime location for Russia because it borders Ukraine and three members of the European Union and NATO: Lithuania, Latvia and Poland.
"Against the background of the Ukrainian crisis, the stationing of a permanent Russian military contingent in Belarus will upset the balance of forces and facilitate an increase in tension in the whole region," said analyst Valery Karbalevich.
As part of an effort to improve Belarus' relations with the West, Lukashenko has stayed neutral on the conflict in Ukraine between the Western-aligned government in Kiev and the Russia-backed separatists in the east.
"It is obvious that the Kremlin really twisted Lukashenko's arm," Karbalevich said. "Belarus is totally dependent on Russia and has to pay somehow for the cheap Russian oil, gas and credits."
The Associated Press contributed to this report.