Putin announces Syria withdrawal, says ISIS destroyed
Russian President Vladimir Putin on Monday ordered his country's forces to begin withdrawing from Syria, saying the country's two-year campaign to destroy ISIS is complete.
Putin, due in Egypt and Turkey for talks, had previously declared he was planning to pull out most Russian troops.
"I order the defense minister and the chief of general staff to start withdrawing the Russian group of troops to their permanent bases," Putin said, according to RIA Novosti news agency.
Reuters reported, however, the Russian leader left wiggle room, saying "if terrorists raise their heads again" his country would "carry out such strikes on them which they have never seen."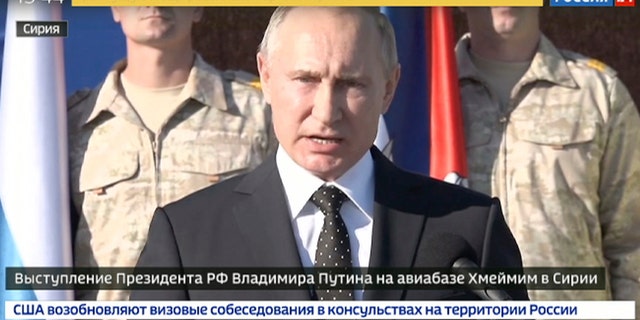 However, the Pentagon pushed back on Putin's announcement.
"Russian comments about removal of their forces do not often correspond with actual troop reductions," Army Col. Robert Manning, a Pentagon spokesman, told reporters Monday.
The Russian military's involvement in Syria, which began in September 2015, has not been without controversy. Days after Russian jets and troops arrived, then-President Obama predicted a "quagmire" for Russian and Iranian forces in Syria.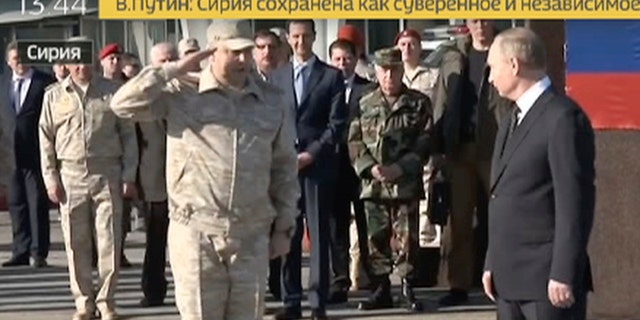 President Trump's national security advisor H.R. McMaster told Fox News's Bret Baier earlier this month at the Reagan National Defense Forum outside Los Angeles that today 80 percent of Syrian President Bashar al-Assad's forces are Iranian supported proxies.
"What the Iranians have done across the Middle East is fuel and accelerate cycles of violence so that they can take advantage of chaos and weak states to make them dependent on Iran for support," McMaster said.
Russia has always said it was targeting ISIS militants, but human rights organizations say civilians have often been killed.
TRUMP, MATTIS TURN MILITARY LOOSE ON ISIS, LEAVING TERROR GROUP IN TATTERS
The Violations Documentation Center, a Syrian civil monitoring organization, documented one bombing campaign in opposition-held Aleppo in 2016 killed more than 440 civilians -- including more than 90 children.
Last month, various groups, including the Syrian government and some opposition representatives, met in Kazakhstan's capital, Astana, for talks aimed at implementing a lasting ceasefire agreement. Those talks have not led to any meaningful agreement yet.
"The task of fighting armed bandits here in Syria, a task that it was essential to solve with the help of extensive use of armed force, has for the most part, been solved and solved spectacularly," Putin said, in remarks broadcast on Russian television, Reuters reported.
However, Putin also announced that Hmeimim airbase and Russia's naval facility in Tartus would continue to operate in Syria.
The Kremlin strongman thanked Russian troops for helping Syria remain a "sovereign independent state," telling servicemen gathered at the base: "I congratulate you!"
The Syrian Observatory for Human Rights, a U.K.-based war monitor, said in March that about 465,000 people killed and missing in Syria's civil war. The United Nations says that over 13.1 million people are in need of assistance in the war-torn country, which includes 6.1 million who were internally displaced.
Fox News' Lucas Tomlinson contributed to this report.