Purported cartel hit man arrested in disappearance of 43 Mexican students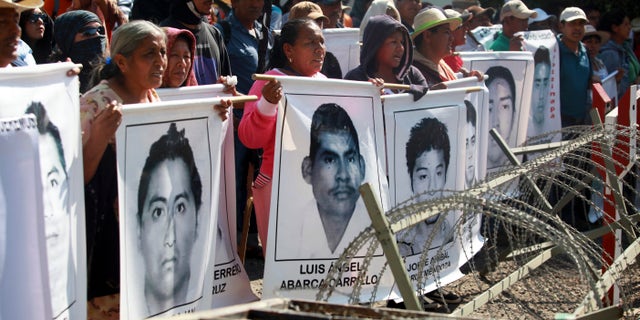 Associated Press – Mexican police said they arrested a purported drug cartel hit man in connection to the disappearance of the 43 college students in southern Mexico.
Police say they arrested Felipe Rodriguez, alias "The Brush" or "The Stubborn One," a member of the Guerreros Unidos gang who is believed to be the "material author" of the killings, the Federal Prosecutor's Office said in a statement. It did not give further details.
The case of the 43 students, who went missing in September, has prompted a national and international outcry and has tarnished the reputation of President Enrique Peña Nieto, who came under heavy criticism
Officials say the students were rounded up by police Sept. 26 in the Guerrero state city of Iguala and handed over to Guerreros Unidos gang members, who allegedly killed them, burned the bodies at a trash dump and threw the remains into a river.
So far only one of the students has been positively identified by DNA testing on human remains, and family members and others have expressed doubts about the official account of the disappearances. They continue to press for information on what happened to the other 42 and have asked investigators not to close the case.
Authorities suspect the former mayor of Iguala, Jose Luis Abarca, of ordering the kidnappings. Abarca has been in custody since November along with his wife, Maria de los Angeles Pineda, who has been charged with organized crime and money laundering.
More than 90 suspects have been arrested in the disappearances, most of them municipal police officers.