Protests erupt in Poland over plan to tighten abortion law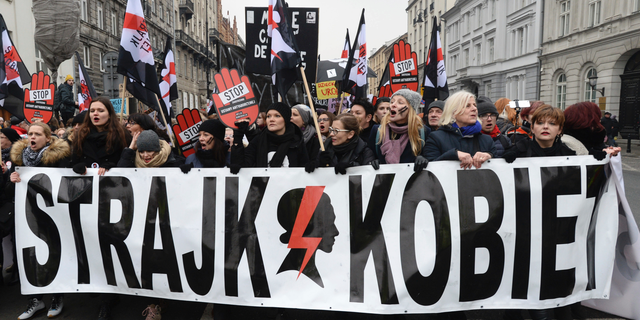 WARSAW, Poland – Thousands of people protested in Warsaw and other cities across Poland on Friday against the conservative government's latest attempt to restrict abortion.
Many also voiced broad anger at the ruling Law and Justice party, which has been accused by domestic critics and international bodies of eroding democracy and civic freedoms.
"This is against attempts at taking away our right to decide what we want," said Paulina Rudnik, a 44-year-old lawyer at the Warsaw protest.
In the crowds around her, people held banners reading "Free choice" and "A woman is a human being" and chanted slogans "Yes to choice! No to horror!"
Poland has one of the strictest abortion laws in Europe, allowing abortion only if the woman's life or health is at risk, the pregnancy is the result of rape or incest, or the fetus is damaged.
An attempt by Polish officials to ban all abortions in 2016 sparked mass nationwide protests by women dressed in black that forced the government to abandon the plan.
The new proposed legislation would still allow abortions when the woman's life or health is at risk or the pregnancy results from a crime. But it would ban abortions of irreparably damaged fetuses or those with Down syndrome.
In Warsaw, protesters gathered at the seat of the influential Roman Catholic bishops, who are pressing the government to tighten the abortion law.
Beating drums and blowing horns, they marched to parliament and then to the headquarters of the ruling right-wing party.
"I hope this protest has the same effect as the one in 2016. Forcing women to have babies is inhuman," said Karolina Chelminska, a 26-year-old graphic designer.
In other protests, thousands gathered in Krakow's market, and hundreds in some other cities, including Wroclaw, where some signs read "I will not give birth to a dead baby."
The European Union's Commissioner for Human Rights, Nils Muiznieks, and U.N. experts are urging Poland's parliament to reject the abortion bill, saying it puts Poland in conflict with its international human rights obligations.