Protesters who scaled London's Shard released on bail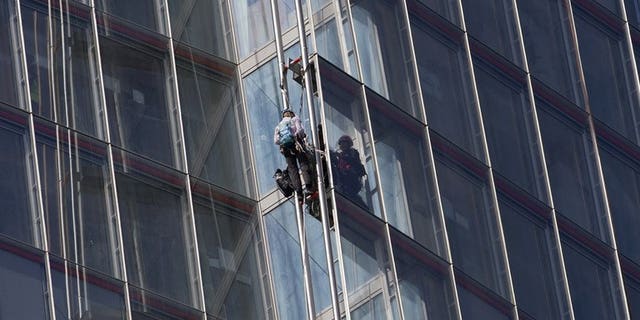 LONDON (AFP) – Six female Greenpeace activists who scaled the Shard skyscraper in London, western Europe's tallest building, in a protest over Arctic oil drilling, have been released on bail, police said Friday.
The protesters evaded security guards just before dawn on Thursday to begin the unauthorised bid to climb the 72-storey glass-fronted building, which towers 301 metres (1,017 feet) over the British capital.
They were arrested on suspicion of aggravated trespass.
The group reached the top of the landmark following 15 hours of climbing. Two of the campaigners unfurled a 32-foot (10-metre) square blue flag with ''Save the Arctic'' written in white across it.
The protesters said it was intended to put Anglo-Dutch energy giant Royal Dutch Shell and other oil companies in the spotlight.
"The six women arrested Thursday on suspicion of aggravated trespass after climbing the Shard have been bailed.
"They are due back on bail on August 15," Scotland Yard police headquarters said in a statement.
Greenpeace spokeswoman Leila Deen -- best known for throwing green custard in the face of then-business secretary Peter Mandelson in 2009 -- said the operation was "relatively straightforward".
"This is one of our biggest actions ever, and it really is a huge ascent to do," she said.
"Hopefully this will really bring home to Shell that we will not be ignored, they need to listen to the three million people that are calling on them to stop drilling the Arctic and protect our planet."
In a statement Shell said oil and gas production from the Arctic "was not new".
"The Arctic region currently produces about 10 percent of the world's oil and 25 percent of its gas," it said.
"If responsibly developed, Arctic energy resources can help offset supply constraints and maintain energy security for consumers throughout the world.
"Shell has been operating in the Arctic and sub-Arctic since the early 20th century, giving us the technical experience and know-how to explore for and produce oil and gas responsibly."