Protesters in Hong Kong rally against Chinese official as authorities step up security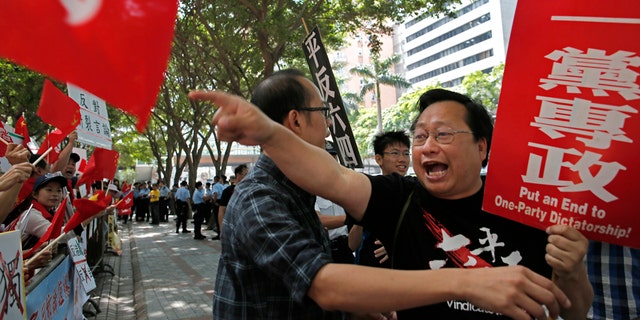 NEWYou can now listen to Fox News articles!
Hong Kong authorities stepped up security for a top Chinese government official's appearance at a business conference Wednesday, preventing pro-democracy protesters from getting anywhere close to the venue.
As many as 8,000 police officers were being deployed for the visit by Zhang Dejiang, the South China Morning Post newspaper reported, citing an unnamed police source. Zhang, the Communist Party's No. 3 official, is the most senior Chinese leader to visit since pro-democracy street protests rocked the city for 11 weeks in late 2014.
About 100 protesters chanted "Zhang Dejiang get lost from Hong Kong" and burned a sign with the same message as they marched toward the convention center where Zhang was giving a keynote speech.
They also called for Beijing to stop interfering in Hong Kong's affairs and to let it have genuine universal suffrage.
In 2014, thousands of residents took to the streets to show their opposition to Beijing's decision to handpick candidates running for the city's top job of chief executive. Riot police clashed frequently with protesters at that time, once firing tear gas and later using pepper spray.
The protesters on Wednesday were kept back by a police security cordon that included hundreds of water-filled plastic barriers and metal barricades.
Authorities are taking no chances as political tension over Hong Kong's relationship with Beijing remains high. Residents are unhappy with Beijing's tightening grip on the semiautonomous Chinese financial city. Calls for independence from activist groups, once unheard of, have become commonplace.
"Zhang's visit to Hong Kong is just a political show," said Avery Ng of the League of Social Democrats, a small, radical political party. "We need to remind the world that it is a fake show."
Zhang "singlehandedly blocked the democratic path of Hong Kong two years ago," when, as chairman of the National People's Congress, China's ceremonial parliament, he backed a plan to restrict the elections, Ng said.
In his speech on China's "One Belt One Road," a sweeping plan to deepen trade relations with neighboring countries and open new markets, Zhang made only a few indirect references to Hong Kong's relationship with the mainland.
He said China "highly respects Hong Kong's stability" and added, "we support strengthening its cooperation with the mainland and expanding its role in global finance. At the same time, Hong Kong must do more to actively participate in the country's development."