Protesters demanding that Nepal become a Hindu nation throw chairs at deputy prime minister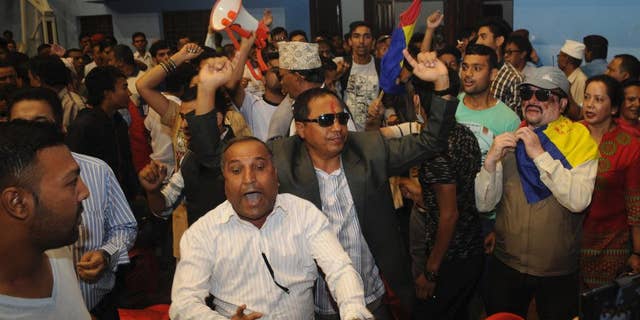 KATHMANDU, Nepal – Protesters demanding that Nepal be turned back into a Hindu nation scuffled with police and threw chairs at the country's deputy prime minister when he was collecting suggestions on a draft constitution.
About 200 protesters from Rastriya Prajatantra Party Nepal stormed into the national stadium chanting slogans when Deputy Prime Minister Prakash Man Singh was talking to a crowd gathered as part of a campaign to collect suggestions from the public.
No one was hurt and riot police pushed the protesters out of the arena.
The government has sent lawmakers back to their constituencies on Monday and Tuesday to collect suggestions on the draft.
Nepal has been governed by an interim constitution for seven years.