Protest in Pakistan over lethal Egypt crackdown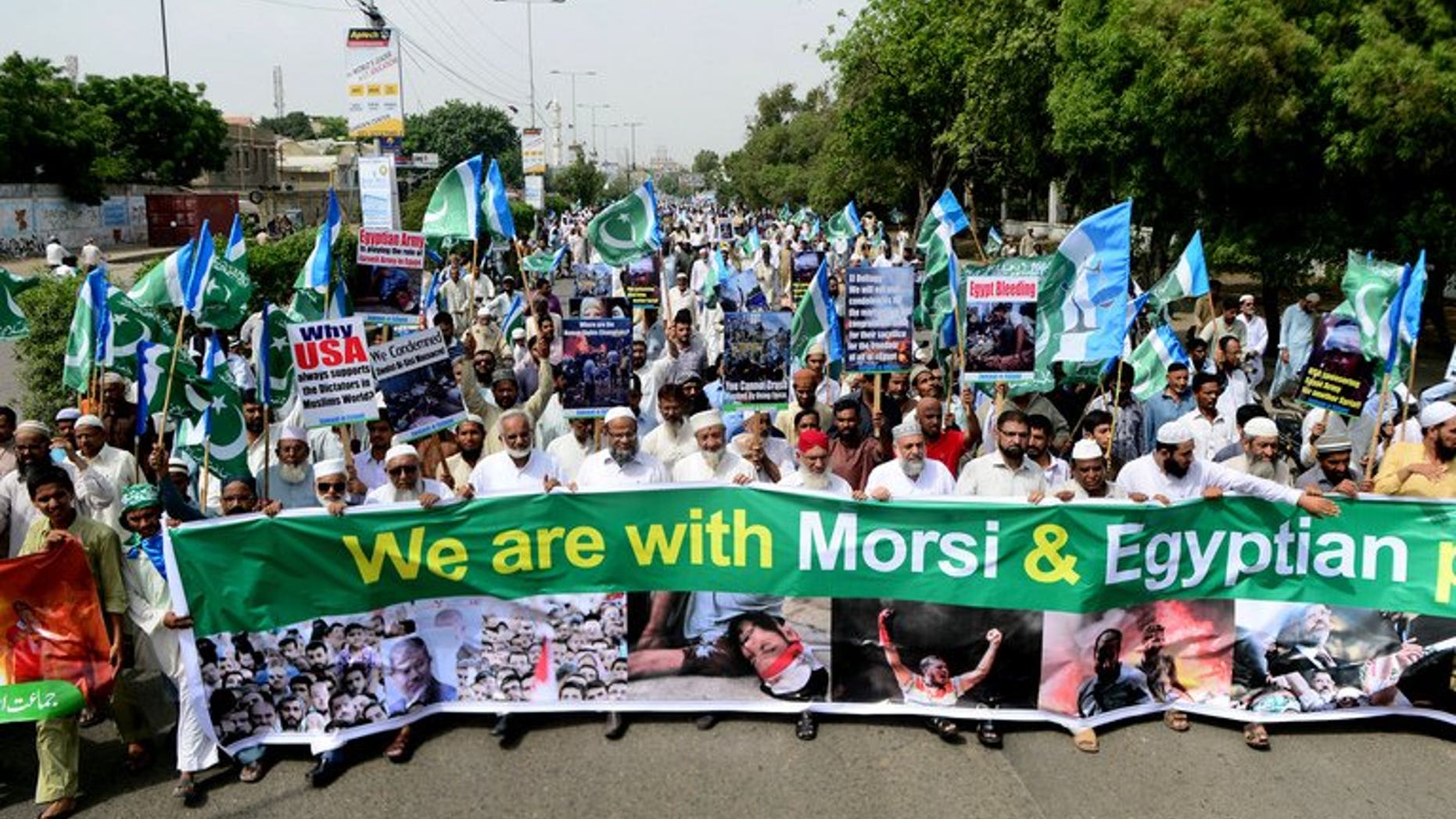 KARACHI, Sindh (AFP) – Hundreds rallied across Pakistan on Friday in support of the ousted Egyptian president Mohamed Morsi and to condemn the use of force against the Muslim Brotherhood, witnesses said.
The demonstrations were mostly organised by Islamic political parties including Jamaat-e-Islami (JI), which has ideological links to the Brotherhood.
In Pakistan's largest city Karachi, more than 500 JI activists marched with banners and placards chanting anti-US slogans as well as support for Morsi.
US President Barack Obama has cancelled a joint US-Egyptian military exercise but has stopped short of suspending Washington's annual $1.3 billion in aid to Egypt.
"International powers are behind the Egyptian chaos and General Sisi is a tout of America and the favourite of Israel as well," said Mohammad Hussain Mahnati, a local JI local leader.
General Abdel Fattah al-Sisi, the army chief, orchestrated the July 3 ousting of Egypt's first elected president after millions protested to demand an end to his turbulent year in power.
In Pakistan's conservative northwestern province of Khyber Pakhtunkhwa, a total of more than 1,000 JI activists held rallies in four cities, including the main city Peshawar.
The lower house of parliament and foreign ministry on Thursday expressed dismay and deep concern over the use of force "against unarmed civilians" and urged all sides to show restraint.
Another protest rally has been planned later in the eastern city of Lahore.
Friday saw fresh clashes between security forces and Morsi supporters in Egypt, two days after nearly 600 people were killed when police cleared two Morsi protest camps in the country's bloodiest day in decades.