Propaganda, little else, unites Africa's jihadist groups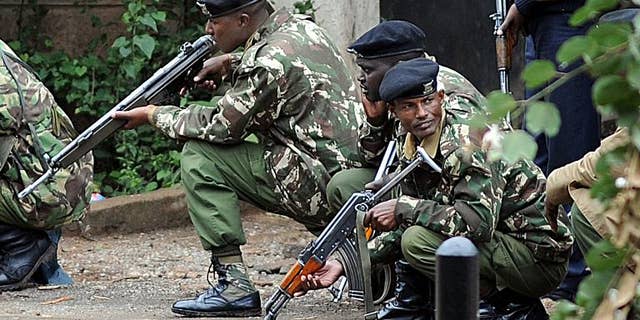 Paris (AFP) – African Islamist groups claiming links to Al-Qaeda spout the same propaganda and sometimes collaborate in minor ways, but they are chiefly focused on their own localised goals, experts say.
"Nothing could be more wrong than conflating the horror of Nairobi with other eruptions of jihadist violence on the African continent," said political scientist Jean-Pierre Filiu.
Each of these groups -- Al-Qaeda in the Maghreb (AQIM), Boko Haram of Nigeria and Somalia's Shebab -- "has its own priorities, which high-profile terrorism allows them to further," he told AFP.
"Each is fighting a local enemy (and) there is no operational coherence or coordinated direction, just the same jihadist propaganda," he added.
Experts say AQIM and Boko Haram, which are geographically close, have traded weapons and equipment, and that some Nigerian militants have been trained in AQIM camps, but this does not imply a unified movement.
As for the Shebab, who mounted the siege of an upmarket Nairobi shopping mall at the weekend, killing dozens of shoppers, they recruit and raise funds in the West, especially from the Somali diaspora in Europe and the United States.
However, some experts say the leaders of Al-Qaeda in the Afghan-Pakistan region are tempted to view Africa as a gateway to expansion, all the more crucial because of their own decline.
While in Afghanistan and Pakistan Al-Qaeda has been largely reduced to dodging US drone attacks, Africa offers vast swathes of lawless territory where borders are porous and regular armies have failed to bring Islamist groups under control.
"As the central leadership of Al-Qaeda is weakened and challenged, the terrorist movement is looking to partnerships in Saharan and sub-Saharan Africa to regroup and re-energise itself," said Valentina Soria of London's Royal United Services Institute.
"Following the alliance with (the) Al-Qaeda core, regional affiliates such as Al-Qaeda in the Maghreb and Al Shebab have undergone similar patterns of strategic, tactical and propagandistic evolution," she said in a report titled "Global Jihad in Africa."
Robert Rotberg of the Kennedy School of Government at Harvard University says that the three groups are bound by money transfers organised by Al-Qaeda chiefs.
"Clearly they are mostly national and regional movements, but they have common funding coming through Al-Qaeda central, so they are forced to know what the other ones are doing and forced to cooperate to a certain extent.
"And there may have some transfer of expertise in bomb making for example," he said.
General Carter Ham, Commander of the Untied States Africa Command, which monitors the region from Germany, was more alarmist. "Al Shebab, AQIM, Boko Haram, each of this organisations is by itself a dangerous and worrisome threat.
"What really concerns me are the indications that these three organisations are seeking to coordinate and synchronise their efforts.
"The linkages between AQIM and Boko Haram are the most worrisome. We have indications that they are trading funds, training and equipment," he said.
Ham said there was a "real concern" for Libya, as his organisation saw "worrying indicators that Al-Qaeda is trying to establish a presence there."