Pro-Kremlin party wins big majority in Russian parliament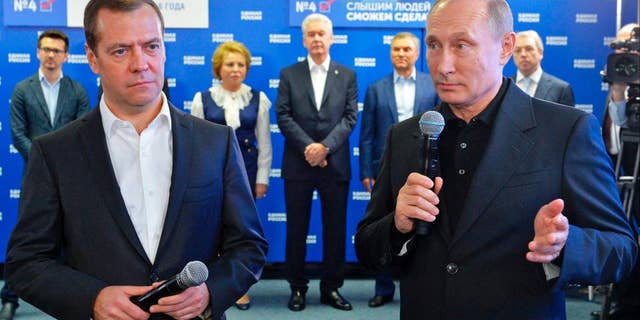 NEWYou can now listen to Fox News articles!
MOSCOW – President Vladimir Putin sees the governing party's huge gain in parliamentary elections as a vote of confidence in his government, despite a low voter turnout which suggests broad public apathy and dismay with the political process.
United Russia, the main party supporting Putin, expanded its grip on parliament, winning three-quarters of the seats, the Central Elections Commission said Monday.
"The results of the vote reflect our citizens' reaction to attempts of foreign pressure on Russia, to sanctions, to attempts to destabilize the situation in our country from within," Putin said.
He pledged to continue a foreign policy "devoid of any signs of aggressiveness, but with unconditional observance of our national interests and securing the nation's defense capability."
Russia-Western ties have remained badly strained over the Ukrainian crisis, with the United States and the European Union slapping Moscow with sanctions over its annexation of Ukraine's Crimean Peninsula and support for the pro-Russian insurgency in eastern Ukraine.
With 93 percent of the ballots from Sunday's vote counted, the United Russia party was on track to get 343 of the 450 seats in the State Duma, the lower house of parliament, CEC head Ella Pamfilova said. She said she expected no significant change in the results when the final count is to be announced Friday.
Kremlin spokesman Dmitry Peskov said Putin "once again received a massive vote of confidence from the country's people."
Turnout, however, was distinctly lower than in the last Duma election in 2011 -- less than 48 percent nationwide compared with 60 percent. In Moscow, just 35 percent of those eligible cast ballots.
The immense gain of more than 100 seats for United Russia, which held a majority in the previous parliament, raises it above the two-thirds majority required to amend the constitution on its own.
United Russia's gains came at the expense of three other parties that had largely complied with the Kremlin's wishes. The Communists will have 42 seats in the new Duma, a sharp drop from 92, the nationalist Liberal Democrats 39 and A Just Russia 23.
Two other seats were won by candidates from small parties and one by an independent. In contrast to the two previous elections, only half the seats in this election were chosen by national party list; the others were contested by single-seat districts.
While the new system allowed more opposition candidates to compete, the overwhelming Kremlin control over nationwide TV networks that eschewed any criticism of the government meant that Putin's critics had little chance to deliver their message to a broad public.
"These elections were not fair, because there were no equal conditions for those who were allowed to participate," said Mikhail Kasyanov, a former Russian prime minister who leads the liberal opposition party Parnas. It was left outside parliament with less than 1 percent of the vote.
The humiliating defeat of Putin's liberal foes sent shivers through the ranks of the opposition, already weakened by years of relentless Kremlin efforts to muffle dissent.
"I feel scared for my children -- I want them to live in Russia, but not this one, which I have seen over recent years and which grew even stronger last night," said Dmitry Gudkov, a candidate for the liberal Yabloko party. He blamed his defeat in a Moscow constituency on voter apathy.
The election observer mission of the Organization for Security and Cooperation in Europe pointedly said that Russians felt widely disengaged from the political process. The mission criticized reporting on national TV channels owned or controlled by the state for focusing overwhelmingly on the incumbent authorities. The observers also noted "self-censorship encouraged by the restrictive legal and regulatory framework."
Marietta Tidei, one of the heads of the observer mission, said Pamfilova's leadership of the election commission, which began five months ago, "has given election stakeholders confidence that the elections can be well-run, yet the low-key campaign shows an overall lack of (public) engagement."
Allegations of violations came from around the country on election day, including charges of ballot-box stuffing and "carousel voting" in which people are transported to several locations to cast multiple ballots.
Pamfilova said state investigators had launched a criminal probe of one voting district, where video from a closed-circuit camera appeared to show a poll worker carefully dropping multiple ballots into the box. She promised that reports of other alleged violations would be investigated and that results from three precincts could be annulled.
Anger over widespread fraud in the 2011 election sparked large protests in Moscow that unsettled authorities by their size and persistence. The Kremlin responded with a slew of harsh laws that introduced hefty fines and prison sentences for participants in unsanctioned rallies and tighter restrictions for non-government organizations. There have been no protests this time.