Presidents of Brazil, Chile both see popularity ratings plunge amid corruption scandals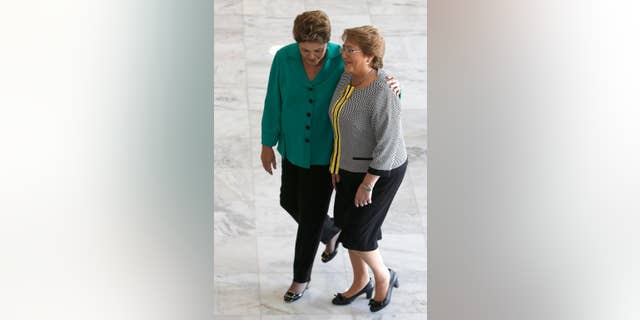 SAO PAULO – Two news polls show the approval ratings of the presidents of Brazil and Chile both plunging amid corruption scandals that have battered their governments.
Only 12 percent of Brazilians polled thought President Dilma Rousseff's government was doing an "excellent" or "good" job, while 64 percent qualified it as "bad" or "terrible," according to a survey by polling institute Ibope.
Ibope interviewed 2,002 people between March 21 and 25. The poll had a margin of error of 2 points.
In Chile, President Michelle Bachelet's approval rating has fallen to its lowest level amid a scandal involving her son.
A poll says Bachelet's approval rating fell 8 percentage points to 31 percent in March versus February. The survey by Gfk Adimark surveyed 1,258 people and had an error margin of 2.8 points.