Pregnancy rumors swirl around wife of North Korean leader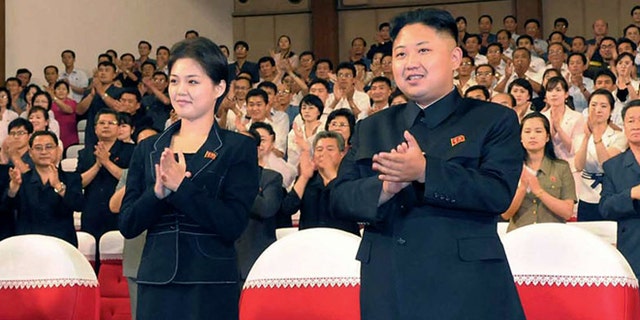 A bouncing baby dictator may soon be on the way in North Korea.
Speculation has been mounting in recent days that Ri Sol-ju, the wife of the Hermit Kingdom's leader Kim Jong-un, is pregnant with the couple's second child.
Rumors have begun to ramp up after a photograph published last week on the front page of North Korea's state-run Rodong Sinmun newspaper showed Ri wearing loose-fitting clothing and appearing to have put on weight. The South Korean newspaper Chosun Ilbo noted that the outfit appeared to be similar in color and design to a maternity dress she was pictured wearing in October 2012, shortly before she gave birth to a daughter
"[These rumors are] not really a surprise as Kim needs a son as a successor for the dynasty that has ruled North Korea since it was founded by his grandfather, Kim Il-sung," Toshimitsu Shigemura, a professor at Tokyo's Waseda University and veteran North Korea watcher, told Britain's Daily Telegraph. "It's absolutely impossible that a daughter could take over as leader, so his wife needs to give birth to a son."
In addition to his legitimate daughter, Kim is believed to fathered a child with another woman. That offspring, another daughter, is believed to have been born sometime in 2010. Kim and Ri's daughter has never been publicly photographed, which analysts attribute to the official three-year mourning period that is still being observed following the death of Kim Jong-il in December 2011.
Chung Sung-jang of the Sejong Institute, a South Korean national security think tank, told the Chosun Ilbo that if the rumors were true, he estimated that Ri was between three and five months along in her pregnancy.
Click for more from the Chosun Ilbo