Powerful typhoon forces hundreds of thousands of evacuations in China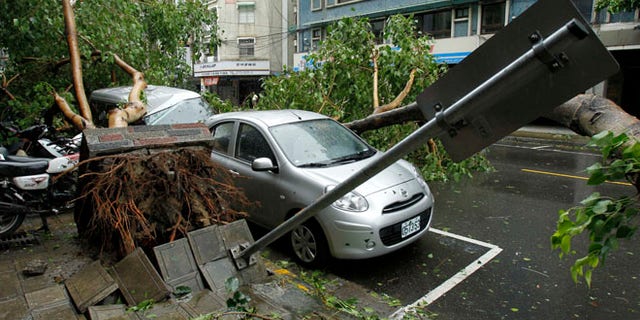 BEIJING – A powerful typhoon has surged into southeast China, forcing the evacuation of hundreds of thousands of people from a coastal province after passing across northern Taiwan, killing at least two people.
Typhoon Soulik disrupted transportation and commerce across Taiwan, with emergency crews around Taipei struggling to restore power to the 520,000 homes and remove hundreds of trees uprooted by the storm from streets and roads.
The storm then hit the Chinese province of Fujian on Saturday afternoon, packing winds of 119 kilometers per hour (74 miles per hour), according to China's National Meteorological Center, down from the 163 kph (101 mph) winds it carried across Taiwan.
About 300,000 people in Fujian were evacuated from their homes, the official Xinhua News Agency reported.
In Fujian and Zhejiang, another coastal province, train services were suspended, flights canceled and fishing boats called back to ports. China's weather service warned of possible floods and landslides.
Earlier, torrential rains buffeted large areas of northern and central Taiwan, with schools and businesses throughout northern Taiwan were closed by government order on Friday.
A falling brick killed a 50-year-old policeman in the Taipei suburb of Tanshui, while in Miaoli, a 54-year-old women died after falling from her roof. One man in the central city of Taichung was listed as missing after being swept into a raging river.
Throughout Taiwan, the National Fire Agency reported there were at least 104 injuries.