Powerful Texas business lobby opposes Republican efforts to repeal state's DREAM Act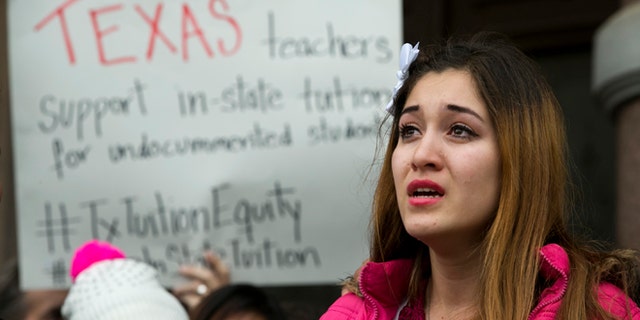 AUSTIN, Texas (AP) – Two days into the new legislative session, one of Texas' most powerful business lobbies joined Democrats in opposing Republican efforts to repeal in-state college tuition rates for the children of immigrants who are in the country illegally.
The Texas Association of Business has previously endorsed keeping the state law many top Republicans have pledged to repeal. But Wednesday's renewed call to oppose repeal efforts was another sign of the coming conflict among Texas conservatives in what could be one of the session's most divisive issues.
"We have a moral imperative in Texas to educate all of our children," Texas Association of Business President Bill Hammond said at a Capitol rally. "They will be the future teachers, and doctors and architects and engineers in Texas if we allow this program to continue."
It wouldn't be the first time Republicans have clashed with typically conservative business leaders. In 2011, business interests were seen as influential in scuttling Republican efforts to allow local police forces to ask detainees about their immigration status.
The so-called Texas DREAM Act covering higher education passed in 2001, when Texas became the first state to allow the children of immigrants in the country illegally to pay in-state tuition rates at public colleges. The law requires those students to have lived in the state for at least three years, graduate from high school and sign a sworn statement that they will seek legal residency.
Texas had about 20,000 students enrolled under the provision of the DREAM Act in 2012, the most recent year data was available, according to the Texas Higher Education Coordinating Board. Of those, more than 14,000 were enrolled in two-year or technical colleges with about 5,000 at public universities.
But the law has been a target for state and national conservatives since 2012 when Gov. Rick Perry's support for the measure helped kill his chances in the Republican primary for president.
Perry leaves office on Jan. 20 and his successor, former Republican Attorney General Greg Abbott, supports repealing the law. Lt. Gov.-elect Dan Patrick also has pledged to make repealing the law one of his top priorities, calling it "a question of fairness for American citizens."
At least two House bills have already been filed to repeal the Texas DREAM Act and similar efforts are expected in the Senate. Republicans have large controlling majorities in both chambers.
José Luís Zelaya, who is studying for his doctoral degree in urban education at Texas A&M University, entered college in 2006 under the DREAM Act and called repeal efforts "absurd."
"Texas is not a state that travels back in time. We do not enact legislation that travels back in time," Zelaya said. "We should promote human dignity. We should promote equality."