Powerball Winner Pedro Quezada Settles $30K Child Support Debt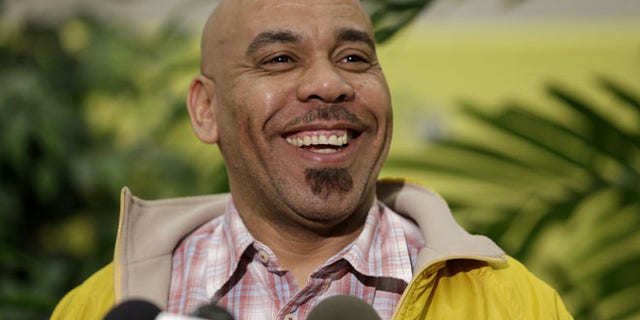 New Powerball millionaire Pedro Quezada has resolved his hefty child support debt.
Quezada, who just won a $338 million Powerball jackpot, appeared Monday afternoon in state Superior Court in Paterson, N.J.
Authorities had said the 44-year-old Passaic resident owed about $29,000 in back support. During the court hearing, officials said Quezada had paid about $30,000 to settle the debt.
He definitely could afford it. Quezada claimed a lump-sum payment last week worth $221 million, or about $152 million after taxes.
The unpaid child support payments dates to 2009. But it's not clear which of Quezada's five children are covered by the payments.
A working-class Dominican father of five, Quezada quickly saw the spotlight on his remarkable luck shift to his woes, including a foreclosure of his home a few years ago and the child support debt.
Authorities stopped by Pedro Quezada's Passaic apartment last week after the 45-year-old claimed a lump-sum payment worth $221 million, or about $152 million after taxes. No one answered the door.
In an e-mail, Passaic County Sheriff Richard Berdnik told The Record newspaper the state Lottery Division would satisfy the judgment before the winnings would be released.
His children are anywhere from 5 to 23 years old, and he has said some of his children live in North Carolina.
Quezada appeared at a press conference last Wednesday to collect his check alongside his brothers and Mexican wife. He took questions from reporters but was scant on details about his personal life, especially about his life in the Dominican Republic, where he lived before he moved to the U.S. at 19.
While mum on his family life in his hometown of Jarabacoa, a New York Daily News report Thursday said Quezada grew up in a one-story wooden house with his parents and four siblings. His father worked as a cop and his mother was a stay-at-home mom.
Quezada found out he won big when he stopped at Eagle liquor store in Passaic on Monday to check his lottery numbers.
He had owned a bodega in Passaic since 2006, working 15-hour days for the past six years, which he called "difficult." His small store is now up for sale.
The Associated Press contributed to this story.
Follow us on twitter.com/foxnewslatino
Like us at facebook.com/foxnewslatino