Powder scare at mosque in Brussels, more raids conducted throughout region
Belgian authorities responded to a false alarm at a major mosque in Brussels on Thursday to investigate powder that was found at the house of worship.
Firefighters, decontamination teams and police officials responded to the Islamic and Cultural Centre of Belgium, a Saudi-established institution and mosque about 700 feet from the headquarters of the European Union, according to Reuters.
A fire service spokeswoman told the news agency that it received a call from someone who believed they may have found anthrax powder. It was later determined that substance was only flour.
authorities had isolated 11 people on Tuesday after a parcel with a white powder sent to the mosque had been opened and had decontaminated several people as a precaution.
Multiple threats against mosques across the European nation by a group calling themselves Christian State have occurred since the November 13 Paris Attacks by ISIS militants from France and Belgium.
Despite the scare, Belgium has lowered their security threat level nearly a week after they first established a maximum alert, according to national news agency Belga.
Belgium's prime minister has announced that the alert level in Brussels has been lowered because a threat of an attack is no longer considered "imminent."
Charles Michel said the subways system will be fully reopening on Friday. But he said that despite the lowering of the threat to its second-highest level, an attack remained "possible and likely."
Also on Thursday, authorities raided three locations outside of Brussels that they believe are linked to the Paris attacks, but no arrests arrests were made.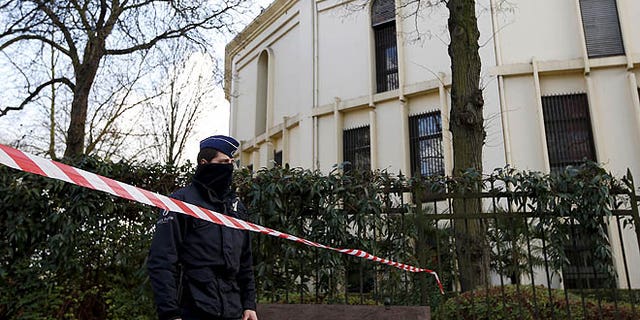 After raiding a house near southern Sambreville, 50 miles south of the capital, they launched two more raids in Verviers, 80 miles east of the capital.
Verviers was already the scene of a bloody standoff in January when two suspects were killed by security forces in a shootout. The government said at the time it had averted an imminent attack.
Federal police mounted a raid in the small town of Sambreville looking for weapons and explosives according to Belgium public broadcaster RTBF. It was not immediately clear if anything had been found.
Immediately after the Paris attacks on Nov. 13, Belgium raised its security alert to Level 3 and a week later put Brussels onto maximum alert as police hunted a local suspect as well as accomplices who the government said might be planning similar attacks in Brussels.
The suspect remains at large. Police have executed a number of raids and searches over the past two weeks and have charged five people with terrorism offences linked to the Paris attacks.
The Associated Press contributed to this story.