Portuguese engineer designs clip-on windshield for foul-weather cyclists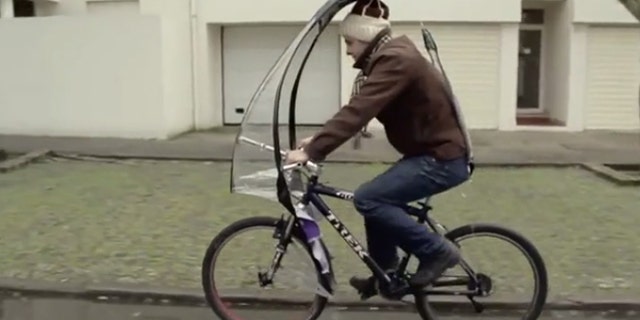 A Portuguese engineer was having a problem giving up his bike commute on rainy days, so he decided to find a solution.
What Manuel Brito came up with is what amounts to a clip-on windshield that looks like a plastic boat sail for his bike. He tested it out, and, impressed with the results, decided to market the attachment, which bears the almost equally unwieldy name of LeafXPro.
"The idea of LeafXPro arose because we love cycling and it's disappointing to have to use polluting means of transport just because of bad weather," the 40-year old engineer told the Daily Mail in the U.K. "We started thinking that there had to be an efficient, versatile and comfortable solution that would provide a sense of freedom for all people who love cycling."
The various models of the LeafXPro. Clockwise from top left: Standard, Advanced, Family and Storm. (Photos: LeafXPro Kickstarter page.)
The LeafXPro is meant to prevent wind and rain from blowing in a cyclist's face while not steaming up like enclosed cover would. The 2.2-pound device is meant to fit on to any style of bike and is designed to be packed away in just one minute if the sun suddenly decides to shine.
"LeafXPro is aerodynamically designed to reduce air resistance and can be used in even the most demanding conditions," he said. "The resistance results showed that the kits can be used also in tougher conditions such as mountain biking."
While it is not for sale in stores, it can be bought on LeafXPro's Kickstarter page, with prices ranging from $152 for the basic model to $305 for the family kit, which also protects a child on a rear bike seat.
"The classic model, designed for episodes of snow, cold and light rain, turns easily into the Advanced model [which adds a head and back cover] or Storm model [which includes a poncho-like rain cover for the rider's upper body] simply by sliding fasteners to join the modules," Brito said.
"LeafXPro kits are designed for the urban cyclist, for anyone who commutes to work by bicycle, for parents wanting to cycle their kids to school or people who want to enjoy bike tours as a tourist during sightseeing," Brito said.
Like us on Facebook
Follow us on Twitter & Instagram