Pope tells Trump building walls 'not Christian' on way back to walled-in Vatican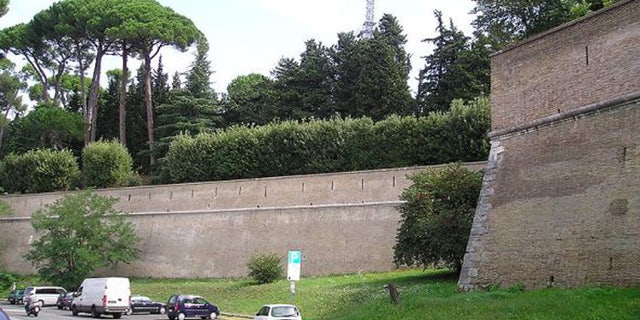 Pope Francis questioned Donald Trump's Christianity Thursday over the Republican presidential hopeful's plan to build a wall on the Mexican border, but the pontiff himself lives behind massive stone walls.
Speaking from Mexico as he departed from a weeklong tour in which he spoke before millions, His Holiness took a direct shot at Trump, who has made his plan to build a wall and make Mexico pay for it a centerpiece of his campaign.
"A person who thinks only about building walls, wherever they may be, and not building bridges, is not Christian," Pope Francis said. "This is not in the Gospel."
Trump supporters quickly took to the Internet, noting the irony of the pope's comment.
One tweet read: '"People who build walls are not Christians," said Pope Francis, who lives in Vatican City, which is essentially a giant fortress."
The pope said he'd "give the benefit of the doubt" since he hasn't heard Trump's plan himself, according to AP, adding, "I say only that this man is not Christian if he has said things like that."
Trump has proposed the border wall to combat illegal immigration. The developer, who is Presbyterian, shot back at the pope after having his faith questioned.
"For a religious leader to question a person's faith is disgraceful," Trump said in a statement. "I am proud to be a Christian and, as president, I will not allow Christianity to be consistently attacked and weakened, unlike what is happening now, with our current president."
The Vatican's walls, which do not completely surround the enclave, date back more than 1,000 years, to the time of Pope Leo IV, who commissioned the construction of what is known as the Leonine Wall following the sacking of Old St. Peter's Basilica by Islamic Saracens in 846.