Pope Francis to meet with Cuba President Raul Castro this week at the Vatican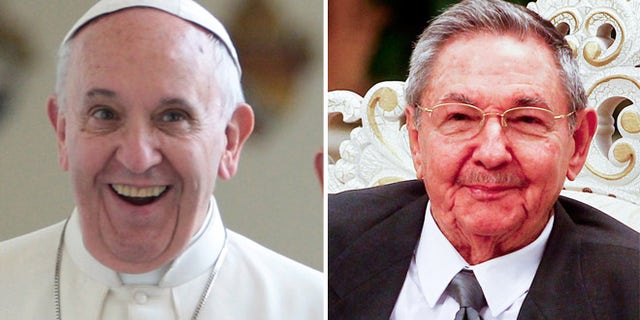 Cuban president Raul Castro will fly to Italy this week for a private meeting with Pope Francis.
The Vatican announced late Tuesday that Castro would meet with the pontiff in the Apostolic Palace for a "strictly private audience."
Pope Francis and other members of the Vatican played a role easing diplomatic relations between the U.S. and Cuba. For over a year, the pope urged both U.S. President Barack Obama and Castro to free convicted spies held in their respective prisons.
The Vatican was the only nation directly involved in the talks between the U.S. and Cuba, although Canada did host discussions with the two countries back in the spring of 2013.
Senior Vatican officials hosted delegations from both the U.S. and Cuba in October where the final steps of the talks were finalized, including the prisoner transfers, the normalization of ties and reestablishment of diplomatic relations.
Vatican spokesman the Rev. Federico Lombardi noted Tuesday that Castro has publicly thanked Francis for his role in bringing about the rapprochement between the United States and Cuba.
Francis is due to visit Cuba before he arrives in the U.S. at the end of September.
Includes reporting by The Associated Press.
Like us on Facebook
Follow us on Twitter & Instagram