Pope Francis in Egypt for historic visit to show Christian-Muslim unity for peace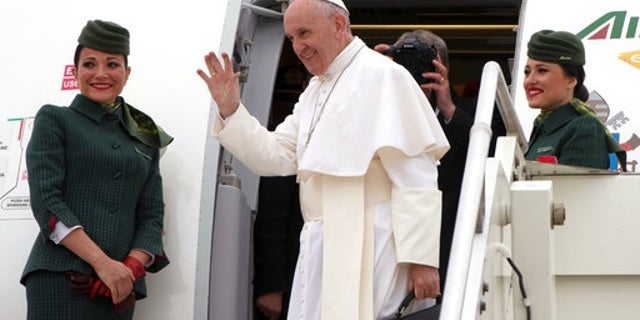 NEWYou can now listen to Fox News articles!
Pope Francis arrived in Cairo, Egypt, on Friday for a historic visit aimed at presenting a united Christian-Muslim front to repudiate violence committed in God's name.
His visit came after three suicide bombings since December on Coptic churches, including deadly twin Palm Sunday church attacks, killed at least 75 people. The Islamic State claimed responsibility for those attacks.
Francis first met with Egypt's president, Abdel Fattah el-Sissi who welcomed the Catholic leader at his Ittihadya palace, where a military band played the national anthems of the Vatican and Egypt.
The "people's pope" said before his trip that despite security concerns, he would not travel in an armored car -- a decision in line with previous foreign trips, the BBC reported.
The pontiff will make an important visit to Al-Azhar, the revered 1,000-year-old seat of learning in Sunni Islam. There, he will meet privately with grand imam Sheikh Ahmed el-Tayeb, and participate in an international peace conference Friday afternoon.
After meetings with el-Sissi and the Mufti, Francis will head to the seat of the Coptic Orthodox Church. Francis and the "other" pope, Tawadros II of the Coptic Orthodox Church, will preside over an ecumenical prayer service in St. Peter's church, the Coptic cathedral that was the site of a December suicide bombing claimed by Islamic state militants that killed 30 people.
The goal of the trip is to bring a message of peace to a country that has been ravaged by Islamic extremist attacks, and encourage a culture of respect and tolerance for religious minorities, said Cardinal Pietro Parolin, the Vatican secretary of state.
"The fundamental issue is education, and educating those of different religious beliefs and especially the young, to have great respect for those of other faiths," Parolin told the Vatican newspaper L'Osservatore Romano. "The question of language is fundamental: when you use a violent language, there is the danger that it can result in violent acts."
While the pontiff dislikes using the armored popemobile his predecessors used on foreign trips, security in Cairo has been heightened for Francis' two-day trip.
Streets that will be used by the pontiff's motorcade around the Coptic Orthodox cathedral and the Vatican Embassy were cleared of cars, and police swarmed the upscale Cairo neighborhood of Zamalek on a Nile River island where Francis will sleep on Friday.
The pope's visit is unlikely to cause much disruption to the city as it falls on the Muslim Friday-Saturday weekend, when the usually congested traffic is significantly lighter.
The visit is the first papal trip to Cairo in 20 years, and comes as Egypt's Coptic Christians, who make up 10 percent of the country's 92 million Muslim-majority population, face increased threats.
The Associated Press contributed to this report.