Pope Francis in Easter Vigil baptizes 8, including beggar turned hero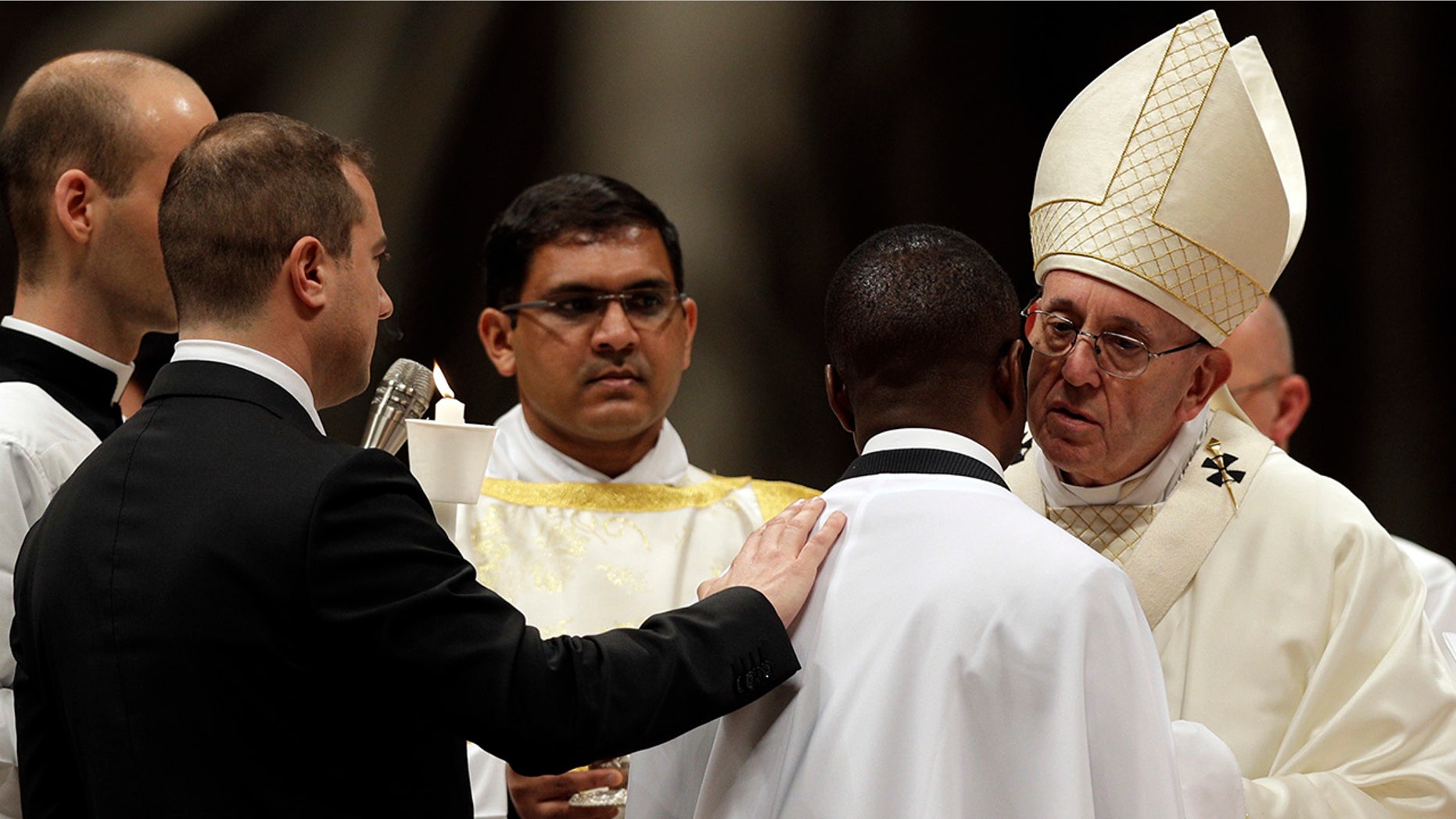 In an Easter Vigil homily Saturday, Pope Francis urged Roman Catholics to not remain paralyzed in the face of injustices. He also baptized eight adults, including a Nigerian man who was initially a beggar but became a hero in Italy.
John Ogah reportedly disarmed a thief with his bare hands when he witnessed a supermarket robbery on Sept. 26.
Ogah had been begging for spare change outside the Carrefour market in a Roman neighborhood when a masked thief, armed with a meat cleaver, tried to make off with 400 euros ($493) stolen from cashiers, according to Italian news reports.
Security cameras showed him confronting the thief, wresting the cleaver away and holding him by the collar until police arrived.
Ogah then disappeared, fearing he would be deported because he didn't have his papers in order. But Rome police sought to reward his courage and gave him a coveted Italian residency permit that had been denied him when his asylum bid failed.
He now reportedly has a job with the Italian Red Cross and a place to call home.
Ogah told La Repubblica newspaper that his dream was to be a legal resident in Italy and have a job so he wouldn't have to beg to support his child back home in Nigeria. He had left Nigeria and, after a stay in Libya, set off for Italy on a migrant smuggler's boat in May 2014.
"If Pope Francis or the president of the republic could do something for me I would be the happiest man in the world," he reportedly said. "I don't want to be a hero. I just want to be legal, work and have a dignified life in Italy."
In Ogah's baptism, he chose as his baptismal name to be "Francesco."
Previously, in a Holy Thursday ritual, Pope Francis washed the feet of 12 prisoners of the Regina Coeli prison in Rome.
The pope, 81, urged the inmates to never let their hopes be clouded like cataracts cloud the eyes, revealing that he suffers from the condition and has to have surgery next year.
He said the same thing happens with life, when disillusionment, errors and fatigue cloud the soul. Francis urged the inmates to do a daily cleansing of their view on life — a "cataract surgery for the soul" — so they can see and spread hope.
During the ceremony, Francis knelt down and one by one, poured water over the feet of the 12 inmates, wiped them dry and kissed them.
Francis said in the homily that the ritual is meant to show his willingness to serve others "like a slave," as Jesus did.
"Your chief must be your servant," he said. "So often I think ... how many wars would have been avoided if all those kings, emperors and heads of state had understood this teaching of Jesus rather than command and be cruel and kill people."
The 12 inmates included Catholics, Muslims, an Orthodox Christian and a Buddhist, the Vatican said. They hailed from Italy, the Philippines, Morocco, Moldova, Colombia, Nigeria and Sierra Leone.
The Associated Press contributed to this report.