Pope Francis Draws Over 3 Million Viewers For Final Mass In Brazil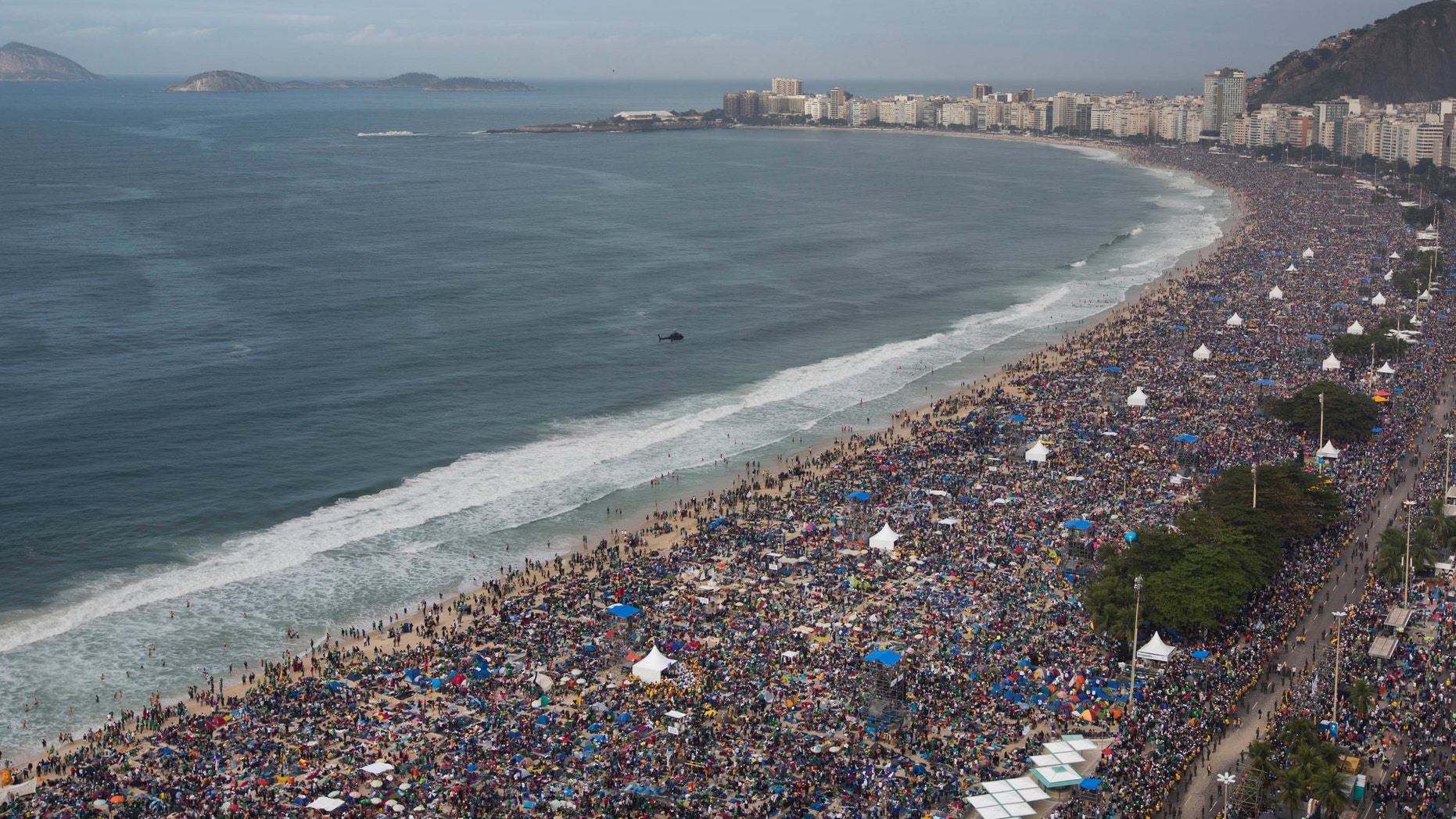 A reported 3 million people cheered on Pope Francis as he demanded the Catholic Church shake itself up and get out into the streets to find the faithful at the final Mass of his historic trip to Brazil on Sunday at Copacabana beach.
Nearly the entire 2.5 mile crescent of the broad beach overflowed with people, some of them taking an early morning dip in the Atlantic and others tossing t-shirts, flags and soccer jerseys into the pontiff's open-sided car as he drove by. Francis worked the crowd, kissing babies, taking a sip of mate tea handed up to him and catching gifts on the fly. Even the normally stern-faced Vatican bodyguards let smiles slip as they jogged alongside his car, caught up in the enthusiasm of the crowd.
Many of the crowd had spent the night on the beach, an all-night slumber party to end World Youth Day that had a festive Latin air, with pilgrims wrapped in flags and sleeping bags to ward off the cold. They danced, prayed and sang — and stood in long lines in front of the armadas of portable bathrooms along the beachfront.
"We were dying of cold but it was worth it," said Lucrecia Grillera, an 18-year-old from Cordoba, Argentina, where Francis lived for a time before becoming pope. "It was a tiring day, but it was a great experience."
The Vatican said more than 3 million people were on hand for the Mass, based on information from World Youth Day organizers and local authorities.
That was far higher than the 1 million at the last World Youth Day vigil in Madrid in 2011 or the 650,000 at Toronto's 2002 vigil.
Many of those at the vigil had tears in their eyes as they listened to Francis' call for them to not be "part-time Christians" and to build up their church like his namesake, St. Francis of Assisi, was called to do.
"Jesus offers us something bigger than the World Cup!" Francis said, drawing cheers from the crowd in this soccer-mad nation.
After Sunday's Mass, Francis was meeting with the bishops of Latin America and the Caribbean, as well as holding a thank-you audience with some of the 60,000 volunteers who organized the youth festival. He was leaving for Rome Sunday night.
"It was such an excellent week, everybody was in such good spirit, you could just feel a sense of peace," said Denise da Silva, a Rio de Janeiro Catholic who was sitting alone on the beach Sunday morning, a Brazilian flag painted on her face. "I have never seen something here in Rio so marvelous as what we have just lived."
Saturday night's vigil capped a busy day for the pope in which he drove home a message he has emphasized throughout the week in speeches, homilies and off-the-cuff remarks: the need for Catholics, lay and religious, to shake up the status quo, get out of their stuffy sacristies and reach the faithful on the margins of society or risk losing them to rival churches.
In the longest and most important speech of his four-month pontificate, Francis took a direct swipe at the "intellectual" message of the church that so characterized the pontificate of his predecessor, Benedict XVI. Speaking to Brazil's bishops, he said ordinary Catholics simply don't understand such lofty ideas and need to hear the simpler message of love, forgiveness and mercy that is at the core of the Catholic faith.
"At times we lose people because they don't understand what we are saying, because we have forgotten the language of simplicity and import an intellectualism foreign to our people," he said. "Without the grammar of simplicity, the church loses the very conditions which make it possible to fish for God in the deep waters of his mystery."
In a speech outlining the kind of church he wants, Francis asked bishops to reflect on why hundreds of thousands of Catholics have left the church for Protestant and Pentecostal congregations that have grown exponentially in recent decades in Brazil, particularly in its slums or favelas, where their charismatic message and nuts-and-bolts advice is welcome by the poor.
According to census data, the number of Catholics in Brazil dipped from 125 million in 2000 to 123 million in 2010, with the church's share of the total population dropping from 74 percent to 65 percent. During the same time period, the number of evangelical Protestants and Pentecostals skyrocketed from 26 million to 42 million, increasing from 15 percent to 22 percent of the population in 2010.
Francis offered a breathtakingly blunt list of explanations for the "exodus."
"Perhaps the church appeared too weak, perhaps too distant from their needs, perhaps too poor to respond to their concerns, perhaps too cold, perhaps too caught up with itself, perhaps a prisoner of its own rigid formulas," he said. "Perhaps the world seems to have made the church a relic of the past, unfit for new questions. Perhaps the church could speak to people in their infancy but not to those come of age."
Francis asked if the church today can still "warm the hearts" of its faithful with priests who take time to listen to their problems and remain close to them.
"We need a church capable of rediscovering the maternal womb of mercy," he said. "Without mercy, we have little chance nowadays of becoming part of a world of 'wounded' persons in need of understanding, forgiveness and love."
Based on reporting by The Associated Press.
Follow us on twitter.com/foxnewslatino
Like us at facebook.com/foxnewslatino