Pope Francis defends bishop accused of sexual abuse cover up: 'Bring me proof'
Pope Francis appeared to strongly defend a Chilean bishop accused of covering up a priest's sexual abuse of young boys just days after meeting and weeping with survivors.
"The day they bring me proof against Bishop [Juan] Barros, then I will speak," Francis said when a journalist asked about the 61-year-old bishop, appointed by him in 2015, despite the cover up accusations. "There is not a single piece of proof against him. This calumny [or slander]. Is this clear?"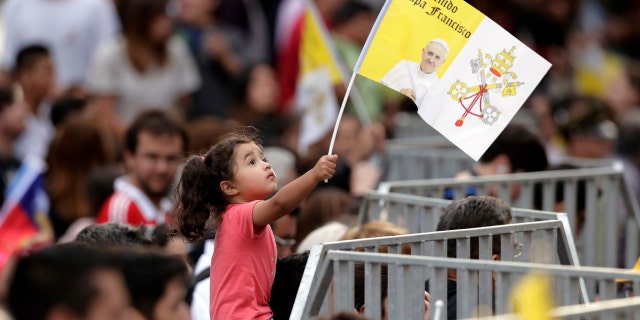 Many Chileans are still furious at Francis' decision to appoint Bishop Juan Barros as the bishop of the southern city of Osorno. Barros was a protégé of the country's most notorious pedophile priest, the Rev. Fernando Karadima.
Karadima was barred in 2011 from all pastoral duties and sentenced by the Vatican to a lifetime of "penance and prayer" for sexually molesting minors.
Karadima had been a politically connected, charismatic and powerful priest who ministered to a wealthy Santiago community. Victims went public with their accusations in 2010 after complaining for years to church authorities that Karadima had kissed and fondled them when they were teenagers.
Barros has denied knowing about Karadima's abuse but many Chileans don't believe him, and his appointment has badly split the diocese.
The pope's defense appears to stand in contrast to Francis' comments on the scandal in a 2015 letter obtained by The Associated Press and published last week.
Francis said in the letter that he contemplated asking for the resignation of Barros and two other bishops accused of knowing about Karadima's abuses and sending them on yearlong sabbaticals. Francis ultimately did not go through with that plan.
On Tuesday, Francis met with survivors of the church's sexual abuse scandal, weeping with them. He apologized for the "irreparable damage" they suffered, his spokesman said.
Vatican spokesman Greg Burke said Francis met with a small group of abuse victims after lunch. The spokesman gave no details, other than to say the pope "listened to them, prayed with them and wept with them."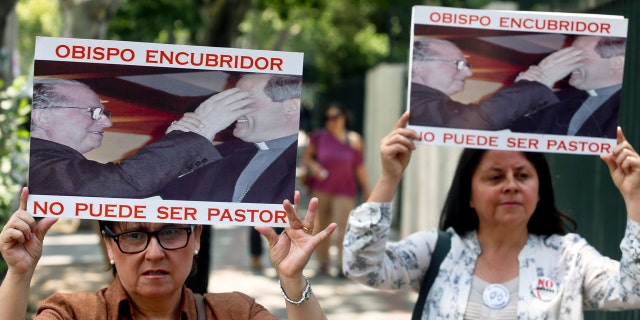 Francis dove head-first into Chile's sex abuse scandal on his first full day in Santiago that came amid unprecedented opposition to his visit.
The Karadima scandal and long cover-up has caused a crisis for the church in Chile, with a recent Latinbarometro survey saying the case was responsible for a significant drop in the number of Chileans who call themselves Catholic, as well as a fall in confidence in the church as an institution.
His meeting with abuse survivors and comments in his first speech of the day were what many Chileans, incensed by years of abuse scandal and cover-up, were waiting for.
"People are leaving the church because they don't find a protective space there," said Juan Carlos Claret, spokesman for a group of church members in Osorno that has opposed Barros' appointment as bishop. "The pastors are eating the flock."
The Associated Press contributed to this report.