Pope Denounces Christmas Attacks, Calls for Peaceful Resolution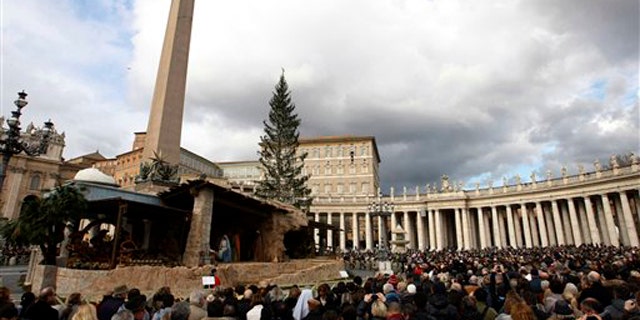 VATICAN CITY -- Pope Benedict XVI has denounced Christmas attacks on the faithful in the Philippines and Nigeria and called for the peaceful resolution of conflicts.
Benedict also cited Saturday's suicide bombing in Pakistan, which killed some 45 people at an aid center. "Once again, the earth is stained by blood," he lamented Sunday.
A bomb exploded during Christmas Day Mass at a chapel inside a police camp in the southern Philippines, wounding a priest and 10 churchgoers. Also Saturday, six people died in attacks by Muslim sect members on two churches in northern Nigeria.
Benedict appealed for people "to abandon ways of hatred to find peaceful solutions to conflicts and give security and serenity" to innocents.
In his Christmas message Saturday, Benedict urged loyal Catholics in China and Iraq to have courage in the face of persecution and limits on their religious freedom, as the largest number of pilgrims in a decade flocked to celebrate Christmas in Bethlehem.
His traditional holiday speech highlighted the tensions between Beijing and the Vatican and the dangers facing minority Christians in Iraq, where militants have used violent attacks to try to drive them out of the country.
"May the birth of the savior strengthen the spirit of faith, patience and courage of the faithful of the church in mainland China, that they may not lose heart through the limitations imposed on their freedom of religion and conscience but, persevering in fidelity to Christ and his church, may keep alive the flame of hope," Benedict prayed.
In recent weeks, tensions have flared anew between the Vatican and Beijing over the Chinese government's defiance of the pope's authority to name bishops and its insistence that prelates loyal to Rome promote China's state-backed church.
Chinese church officials did not immediately comment late Saturday on the pope's homily.
Speaking from the balcony of St. Peter's Basilica, the pope told tourists and pilgrims in the rain-soaked square in Rome that people living in the world's troublespots should take hope from the "comforting message" of Christmas.
Benedict prayed that Christmas would "ease the pain and bring consolation amid their trials to the beloved Christian communities in Iraq and in the Middle East."
"May the light of Christmas shine forth anew in the land where Jesus was born, and inspire Israelis and Palestinians to strive for a just and peaceful coexistence," Benedict said in his traditional "Urbi et Orbi" address (Latin for 'to the city and to the world').
In Baghdad, hundreds of Christians gathered at a church where Muslim extremists took more than 120 people hostage in an October standoff that ended with 68 dead. Church walls were pockmarked with bullet holes, plastic sheeting hung instead of glass windows and flecks of dried flesh and blood still speckled the ceiling.
After the siege, about 1,000 Christian families fled to the relative safety of northern Iraq, according to U.N. estimates.
"No matter how hard the storms blows, love will save us," Archbishop Matti Shaba Matouka told the worshippers.
The pope also expressed hope that Christmas might inspire more respect for human rights in Afghanistan and Pakistan and "advance reconciliation on the Korean peninsula." He prayed that Christians in Haiti would draw hope for the future despite a devastating earthquake and recent cholera epidemic.
For Africa, Benedict prayed that "horizons of lasting peace and authentic progress" would open up for people in Somalia and Darfur as well as those in the Ivory Coast, where violence has killed scores as President Laurent Gbagbo refuses to step down after an election.
In Bethlehem, it was the busiest Christmas in years.
Over 100,000 pilgrims poured into the West Bank town since Christmas Eve, twice as many as last year, Israeli military officials said, calling that the highest number of holiday visitors in a decade. They spoke on condition of anonymity because they were not authorized to talk to the media.
Pilgrims and tourists posed for pictures and enjoyed the sunshine Saturday while others thronged Bethlehem's Church of the Nativity to attend Mass. Worshippers also packed the Roman Catholic church next to the grotto where the traditional site of Jesus' birth is enshrined.
The town's 2,750 hotel rooms were booked solid for Christmas week. Only one-third of Bethlehem's 50,000 residents are Christian today, down from 75 percent in the 1950s. The rest are Muslims.
"(It's) a really inspiring thing to be in the birthplace of Jesus at Christmas," said Greg Reihardt, 49, from Loveland, Colorado.
At airports in Paris and Brussels, hundreds of travelers received their own special Christmas present -- a flight out after spending the night curled up on hard terminal floors.
"I've never had such a Christmas before," said Ron Van Kooe, who slept at the Brussels airport terminal. "It's one not to forget."