Pope decorates Bolivian for translating church texts into Aymara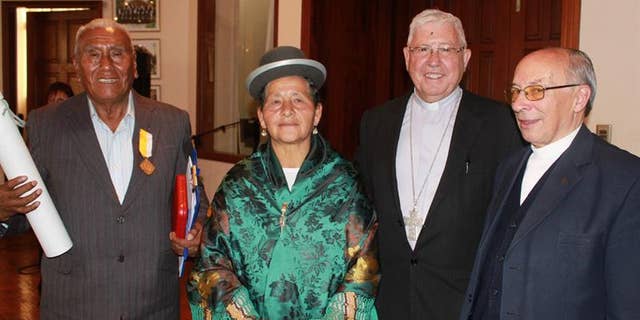 NEWYou can now listen to Fox News articles!
LA PAZ – Pope Francis decorated Bolivian Vicente Quispe Chura for having headed a team comprised of Bolivians and Peruvians who translated several liturgical texts from Spanish into Aymara, the Bolivian Catholic Church reported Thursday.
The head of the Bolivian Episcopal Conference (CEB), Ricardo Centellas, told media outlets that Quispe was very surprised when he learned that the pontiff had awarded him the "Pro Ecclesia et Pontifice" decoration for his work.
Centellas emphasized that Quispe had provided "great support to the life of the Bolivian Catholic Church" because his work allows indigenous communities to approach the Gospel in their mother tongue.
BOLIVIA OPENS 'EVO MUSEUM' DEDICATED TO INDIGENOUS PRESIDENT
The bishops presented the decoration to Quispe on Thursday during their assembly in the city of Cochabamba.
Quispe, born in the small town of Huatajata on Lake Titicaca, for years headed a team made up of Bolivian and Peruvian Aymara Indians who translated several church texts.
According to a statement the pope's recognition highlights a "work of sacrifice that makes possible the enculturation of the Gospel, particularly among the Aymaras of Peru and Bolivia."
PASSING OVER US, BOLIVIA NEARLY DOUBLES LAND SLATED FOR COCA PLANTATION
Spanish Jesuit Luis Palomera, who works in the Aymara liturgical center, said that Quispe's team translated the missal, canonical texts, three readings for Masses, the Book of Psalms and books discussing ritual and festive celebrations, among others.
Quispe expressed his thanks for the recognition and dedicated it to his people, the Aymara communities, the priests of that ethnicity and to the team with whom he worked because they enabled him to carry out the task.
SCIENTISTS TO TRANSPORT ICE FROM BOLIVIAN MELTING GLACIER TO ANTARCTICA
He said that when he sees church officials using the translated works he feels it was worth the effort.
Aymara is spoken among Indians in Bolivia and Peru, as well as in the communities around Lake Titicaca.