Pope Begins State Visit to Germany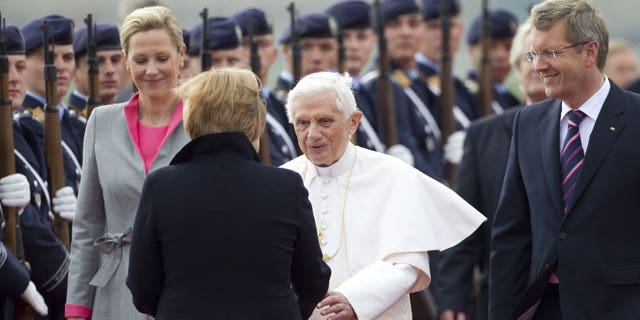 NEWYou can now listen to Fox News articles!
BERLIN – Pope Benedict XVI arrived in Germany on Thursday on his first state visit to his homeland, where he is expected to be greeted by large protests and even larger crowds of Catholic faithful.
The Bavarian-born pontiff was met on a red carpet at Berlin's Tegel airport by German Chancellor Angela Merkel and President Christian Wulff at the start of his four-day visit.
Howitzers fired a ceremonial salute as the pope stepped off his plane, and Eurofighter jet escorts flew overhead.
Merkel introduced the pope to members of her Cabinet. He then greeted members of the German Catholic Church and children who stood waiting for him with small yellow-and-white Vatican flags and presented him with a bouquet of flowers.
Benedict blessed the children before moving on, accompanied by Merkel and President Wulff to his car.
The pope was to speak later in parliament, which many lawmakers have vowed to boycott in protest over what they consider a violation of Germany's separation of church and state. Another 10,000 people are expected to demonstrate outside. The Vatican's views on contraception, the role of women, homosexuality and its handling of the sexual abuse scandal that rocked Germany last year are seen by many in Germany as outdated and out-of-touch.
On the plane, the pope told reporters that he found demonstrations were acceptable as long as they remained civil.
They are "normal in a free society and in the secularized world," he said.
The pope plans meetings with leaders of Germany's Jewish and Muslim communities, three Masses, an ecumenical service with Lutheran church members and possibly meetings with victims abused by priests.
He told reporters on the plane that there needs to be an examination of why people have been leaving the church recently, and the part that the abuse scandals played in the phenomenon.
"I can understand that some people have been scandalized by the crimes that have been revealed in recent times," he said.
More than 250,000 people are registered to attend his Masses, including about 70,000 who plan to be at the open-air service Thursday night in Berlin's Olympic Stadium.