Polish Pilot Felt Huge Relief After Safe Landing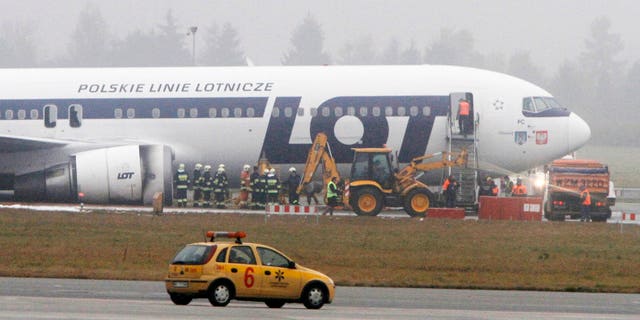 WARSAW, Poland - The Polish pilot hailed as a hero for his smooth emergency landing of a Boeing airliner remained modest Wednesday in his first public appearance, saying he felt "huge relief" once his passengers evacuated the plane, but wondered whether he could have done better.
Capt. Tadeusz Wrona, 54, landed the LOT airlines plane with 231 people on board on its belly at Warsaw international airport, gaining instant hero status in Poland. Some have attributed his gentle landing to his years of experience as a glider pilot.
At a news conference in Warsaw, Wrona appeared nervous and said he kept playing the landing over and over again in his mind, imagining if he might have executed it better. He insisted he did not deserve to be called a hero.
"I am absolutely sure that each of us would have done it the same way, and that the result would have been the same," Wrona said.
He focused mostly on the technical aspects of his landing, revealing only a small hint of emotion -- the enormous sense of relief he felt when all his passengers and crew had reached safety.
"When I stopped on the runway, I still was not sure that everyone was safe because smoke and some burning from friction appeared on the ground," Wrona said. "I felt huge relief when the head flight attendant reported that the plane was empty."
Passengers on board the plane described Tuesday's landing as so smooth they thought they had landed on wheels. However, sparks, smoke and small fires under the plane erupted on landing, and emergency workers immediately doused the plane with water.
One reporter asked him about the exceptional landing. Wrona joked that he heard a passenger complain from the back about feeling a bump, eliciting chuckles from journalists.
Several Facebook pages sprang up immediately on Tuesday to express admiration for Wrona, with some calling him a "superhero."
"Fly like an eagle and land like a crow," runs a phrase that has appeared on Facebook, playing on the word "wrona," Polish for crow.
The landing is an inspiration to a nation that is still heavily focused on the aviation disaster in Smolensk, Russia, in April 2010, in which President Lech Kaczynski and 95 others died when their plane crashed in heavy fog.
A Polish government report put much of the blame for that accident on poor pilot training and faulty security procedures within the Polish air force. In contrast, the Polish crew's landing of the faulty plane has been hailed as masterful and a textbook-perfect example of how to carry out an emergency procedure.
President Bronislaw Komorowski -- Kaczynski's successor -- praised the crew and emergency workers on the ground and said he plans to bestow state decorations on them.
"Most of the observers of the operation at Okecie certainly had in their memories scenes from a year and a half ago, from Smolensk," commentator Michal Schuldrzynski wrote in the conservative daily newspaper Rzeczpospolita on Wednesday. "At that time, things ended in a catastrophe; this time we were witnesses to a miracle."
the United States arrived in Poland on Wednesday to offer advice on removing the plane from the runway and to inspect its technical condition, LOT spokesman Leszek Chorzewski said.
LOT said the plane suffered "a central hydraulic system failure," indicating that the hydraulics used to extend the landing gear, or undercarriage, failed. The failure of an entire undercarriage was unprecedented for a Boeing 767 and highly unusual overall, according to aviation data and experts.
"I have flown this plane 500 times and this is the first time the undercarriage did not open," Wrona said.
Heavy fog has grounded planes at several Polish airports that were to have taken over some of the flights in and out of Warsaw.
had to cancel or postpone departures and arrivals due to the fog, a frequent occurrence in November in Poland.