Polish lawmakers on Friday approved a contentious draft law on Russia's alleged influence in Poland that is targeting the opposition and may affect the outcome of fall parliamentary elections.
The new law would establish a state commission for investigating Russian influences in Poland. It is generally seen as targeting former Prime Minister Donald Tusk, now the main opposition Civic Coalition leader, at a time when early campaigning for the fall elections is underway.
The lower house, or Sejm, voted 234-219 with one abstention to approve the law proposed by the right-wing ruling party. It still needs approval from President Andrzej Duda to take effect. It was not clear whether Duda will approve it.
POLAND SAYS NO TO ANY 'ARTIFICIAL PEACE PLAN' BETWEEN UKRAINE, RUSSIA
Tusk, who is not a parliament member, was present in the chamber during the vote.
He later said those who voted for the law were "cowards" who have "broken good parliamentary manners and the fundamental principles of democracy, out of fear of losing their power, out of fear of the people, out of fear of responsibility (they should face) after they lose the elections."
He said the opposition has a strategy ready for the commission and called on the Poles to walk with him in pro-democracy marches June 4, the anniversary of partly free elections in 1989 that led to the ouster of communists from power in Poland.
Critics say that the draft law violates Poland's constitution and a citizen's right to face an independent court, and that it is a clear example of how the ruling party, Law and Justice, has been using the law for its own ends ever since coming to power in 2015.
They view the bill, dubbed "Lex Tusk," as an attempt to create a powerful and unconstitutional tool that would help Law and Justice continue to wield power even if it loses control of the parliament in elections this fall.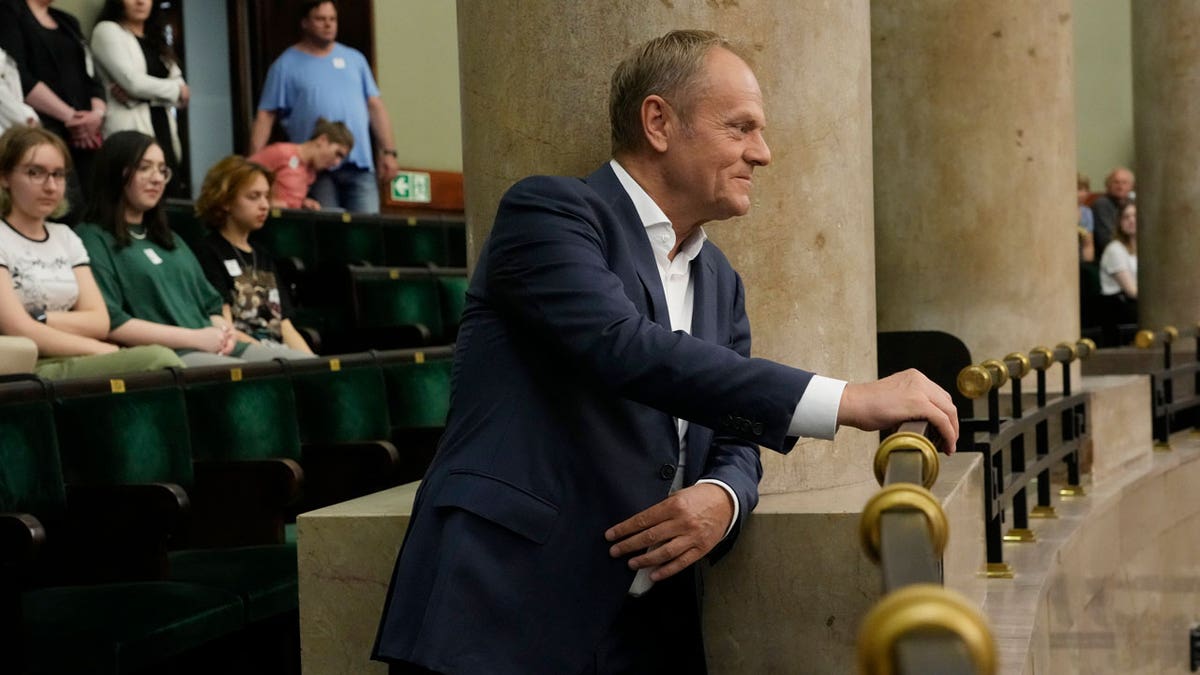 "This regulation violates all the constitutional foundations," said Slawomir Patyra, a constitution expert at Marie Sklodowska-Curie University in Lublin.
Patyra said the proposed commission would investigate and prosecute "anyone who will criticize the current political or economic order" because the definition of 'Russian influences' is vague.
Law and Justice accuses Tusk of having been too friendly toward Russia as prime minister between 2007-14 and making gas deals favorable to Russia before he went to Brussels to be the president of the European Council between 2014-19.
Opposition senator Krzysztof Brejza said the new law is a "Soviet-style idea stemming from the mentality of (Law and Justice leader) Jaroslaw Kaczynski and an attempt at organizing a witch hunt against Donald Tusk and eliminating him" from Poland's politics.
Tusk and Kaczynski are long-term political rivals.
The bill foresees the creation of a state commission with the powers of prosecutor and judge. It could impose punishments, including 10-year bans on officials from positions that have control over spending public funds.
THOUSANDS OF RESIDENTS IN POLAND FORCED TO EVACUATE DUE TO DISCOVERY OF 550-POUND UNEXPLODED WWII BOMB
The lower house also debated another bill proposed by the ruling party that lowers the required quorum of the Constitutional Court. It is intended to speed up work on legislation that is stalled by divisions inside the court, which has been put under political control. Among those laws are new regulations that could unblock massive EU funds that Brussels froze amid the rule-of-law clash with Warsaw.
At stake is some 35 billion euros ($37 billion) in EU grants and loans as Poland's government continues to spend huge amounts on social bonuses, pensions and weapons as the war in neighboring Ukraine continues.
A vote was postponed to next parliament session.
During heated debates in parliament earlier this week, one of the ruling party's key lawmakers, Tadeusz Cymanski, said that the bill lowering the Constitutional Tribunal's quorum is crucial because the party wants to "force the tribunal ... to issue a certain ruling that we are waiting for."
CLICK HERE TO GET THE FOX NEWS APP
The government's policies, especially in the judicial system, have already put Warsaw at odds with the EU, which says they go against the principles of rule of law and democracy. The two drafts laws could add to the rift.