Policy utterances from Philippines' likely next president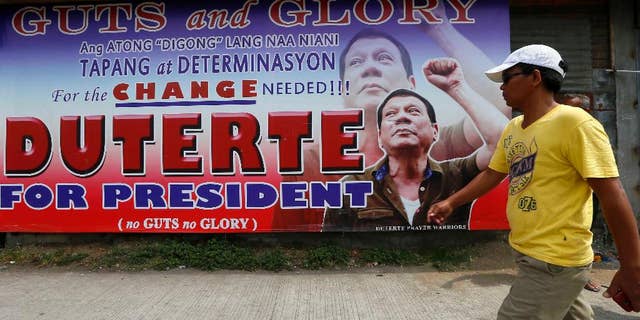 NEWYou can now listen to Fox News articles!
MANILA, Philippines – On the Philippine campaign trail, Rodrigo Duterte was alternatively seen as a looming despot with a hot temper or a hands-on administrator who could eradicate crime and corruption.
A captivating speaker, the longtime mayor of Davao peppered his impromptu speeches with obscene remarks, tales about his sexual adventures and outlandish plans, prompting crowds to laugh but often making it tough to know whether he was joking or dead serious.
Now that an unofficial count has shown that Duterte has won the presidential race by a huge margin, Filipinos and governments around the world wait to see how the 71-year-old will actually steer his Southeast Asian nation that has posted robust growth despite still-widespread poverty. Here's a look at his policy pronouncements, mostly culled from his speeches and campaign staff.
___
Crime and Corruption
Duterte has repeatedly vowed to wipe out crime and corruption in three to six months, warning law breakers they would be shot to death if they try to resist. Philippine police officials doubt this monumental task can be achieved, especially in such a short time.
___
Political System
The mayor has long complaining that the country's south, where his city of Davao is located, and the countryside have long been shortchanged in budget and resource allocations by the central government. He wants to turn the Philippine government into a more decentralized, federal system that will give more power to the provinces and weaken Manila's power.
___
South China Sea
He says he's open to talks with China on territorial conflicts, but also declares he will travel by jet ski to one of the artificial islands that China has built atop reefs in the South China Sea and plant a Philippine flag there. He says China should abide by an upcoming decision by a U.N. arbitration court in a case filed by the Philippines regarding territorial claims, but he also asks why longtime allies America, Australia and Japan did nothing as Beijing built its artificial islands.
___
United States
Duterte describes himself as a "socialist" with a "cold" relationship with America. His spokesman Peter Lavina says that started when U.S. authorities took an American suspected in a 2002 hotel bomb blast out of Davao without Duterte's knowledge. Duterte says he has reservations on the periodic presence of U.S. troops in the country but plans to send an envoy to the U.S. Embassy and other diplomatic missions to extend a hand of friendship.
___
Military and Police
Upon assumption to the presidency, Duterte says he will immediately double the salaries of soldiers and police to discourage corruption of the force he will use to wage a bloody war against criminality. He will recruit 3,000 more policemen to enhance law enforcement and has pledged to harness a rarely-used constitutional power of the president to pardon officers — and himself — if they face lawsuits as they battle criminals.
___
Economy
A lawyer, former prosecutor and congressman, Duterte acknowledges he has a poor grasp of the economy and will have to assemble a team to advise him and "copy" existing programs that suit his populist stance. He's inclined to oppose new mining contracts and won't allow foreign investors to own land.
___
Poverty
The macho mayor associates himself with the lower class, and says he would continue a government program that provides cash to the poorest of the poor to encourage parents to ensure their children will attend classes and receive subsidized healthcare. More than 4.4 million Filipinos are currently benefiting from the monthly handouts. He has vowed to stop a government land redistribution program that he says has failed to ease the plight of peasants.
___
Church
Duterte, who was raised Catholic but now says he doesn't follow any specific faith, started out his campaign on the wrong foot with the church when he cursed Pope Francis for creating a monstrous traffic jam in Manila, trapping him and many other motorists. He later apologized and said he plans to travel to the Vatican to personally say sorry to the pope. His strong support for birth control and contraceptives — he welcomes condom donations and offers cash to residents who agree to undergo ligation or vasectomy — puts him on a collision course with the church.
___
Gender issues
Acknowledging he has three girlfriends and a partner after an annulment of his first marriage, Duterte caught attention during the campaign with his sex jokes and other offensive comments, including on wanting to be the first to rape an Australian missionary who was abused and killed by inmates in a 1989 jail riot. But his spokesman says Duterte's presidency will be gender-sensitive, citing a Davao city regulation that prohibits discrimination against women and LGBT people and ensures equal opportunities for them. He has assembled lawyers to help women in domestic violence cases and has banned swimsuit competitions in local beauty pageants. He says he supports same sex-marriage because "everyone deserves to be happy."
____
Insurgencies
Duterte, who has negotiated with communist rebels for the release of soldiers and policemen kidnapped by the insurgents in the past, says he will open peace talks with the Maoist guerrillas and hammer an autonomy deal with Muslim rebels.
___
Dictator's burial
Duterte says he will allow the burial in a national heroes' cemetery of dictator Ferdinand Marcos, whose body has been displayed in a glass coffin in his northern home province. This may spark a political storm. The current president and left-wing activists have opposed such a burial, citing the plunder and massive human rights violations that happened under the dictator, who was ousted in a 1986 revolt.