Police Testimony Undercuts Facebook Killer's Self-Defense Claim: Wife Likely Cowering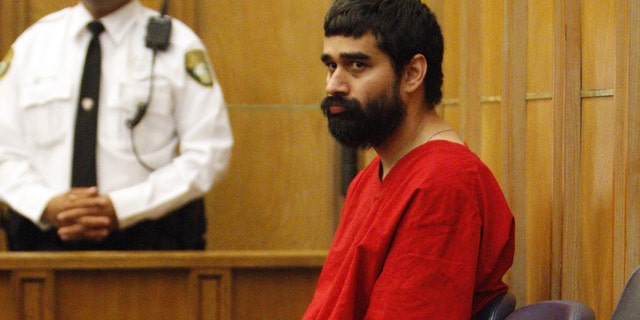 Miami – Jennifer Medina, the woman whose husband fatally shot and posted pictures of her corpse on Facebook, was likely cowering and trying to defend herself before she was killed, a police detective testified Tuesday.
The hearing testimony by Miami-Dade Detective Jonathan Grossman could undercut 31-year-old Derek Medina's claim that he shot his wife, 26-year-old Alonso, in self-defense while she viciously attacked him at their South Miami home.
Grossman said an autopsy and the position of Alonso's body indicates she was on her knees with one arm raised in front of her face when she was shot Aug. 8 during an argument. The trajectories of the 380-caliber bullets indicate they were fired from above her, he added.
"The victim was very low to the ground at the time she was shot," Grossman testified. "The victim appeared to be in a cowering position."
The autopsy results, first reported by The Miami Herald, said Alfonso suffered gunshot wounds to her left forearm, indicating she was trying to protect herself.
Examiners also said gunpowder residue was found on her arms, neck and chin indicating that the woman was shot at point-blank range.
Medical examiners removed seven bullets and two bullet fragments from her body, the report said.
Detective Grossman also said friends and family members told him that Medina had vowed to kill his wife if she ever cheated on him or attempted to leave him. Medina himself told police in a sworn statement that Alonso threatened to leave that day and that she had told a friend the same thing earlier.
The testimony came at a bail hearing for Medina, who sat silently in the courtroom wearing a red jail jumpsuit and a full, dark beard. He has pleaded not guilty to second-degree murder with a firearm.
Circuit Judge Yvonne Colodny did not immediately rule on the bail request; murder suspects in Florida typically don't qualify for bail, but there are exceptions.
Medina told police in the statement that he posted photos of his dead wife on Facebook to notify family members about what had happened. He claimed that he killed her in self-defense after she threatened him with a knife, following many previous abusive episodes.
Medina's attorney, Saam Zanganeh, brought up several pieces of evidence indicating that Alonso could have been the aggressor in their fight. Her diary, which she titled "The Diary of the Insane Women," had several violence-laced entries, including one in which she said she thought about ripping Medina's eyes out because he looked at other women.
"The diary chronicles her thoughts and buttresses our position that she had violent thoughts against Mr. Medina," Zanganeh said.
Grossman testified under cross-examination that police had no previous domestic violence reports from the home. But he also said Medina had trained briefly at a mixed martial arts center and had boxed with the center's veteran instructor after challenging him.
Assistant State Attorney J. Scott Dunn asked the detective whether, with Medina's apparent fighting abilities, it seemed plausible that he feared violence from his wife enough to fatally shoot her in self-defense.
"That's what he indicated. According to his statement, she was punching him," Grossman replied.
Based on reporting by The Associated Press and Reuters.
Follow us on twitter.com/foxnewslatino
Like us at facebook.com/foxnewslatino