Police say Croatian ex-PM arrested in Austria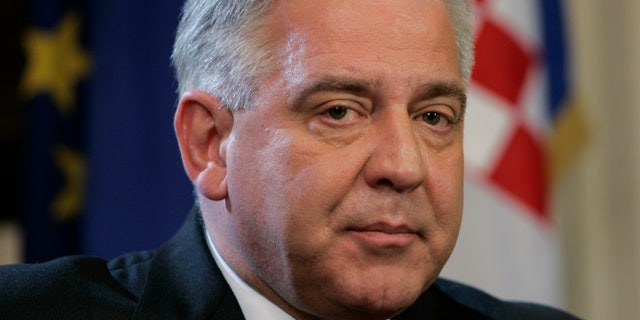 VIENNA – Former Croatian Prime Minister Ivo Sanader was arrested Friday on an international warrant a day after he left his home country amid a corruption probe.
Sanader was taken into custody on the expressway connecting the provinces of Salzburg and Carinthia and then brought to the detention facilities of the Salzburg provincial court, said Alexander Marakovits, a spokesman for the Austrian Federal Office of Criminal Investigations.
The arrest came after "intense cooperation" between Croatian, Austrian and German authorities that began in the early hours of Friday morning, he said.
Sanader, who abruptly resigned as prime minister 17 months ago, left Croatia on Thursday morning, when it became clear that prosecutors wanted to investigate him for allegedly conspiring to commit crimes and abuse of office. He was last seen driving into neighboring Slovenia on Thursday morning.
Croatia's Office for Suppression of Organized Crime and Corruption said Sanader is suspected of conspiring to commit crimes and abuse of office. It did not disclose details of the ongoing investigation, but at its request Zagreb district court ordered Sanader's 30-day detention.
Sanader is the highest-ranking official to be charged with a crime since Croatia became independent in 1991. The Croatian parliament lifted Sanader's immunity from prosecution Thursday afternoon.
Once hailed at home and abroad for uprooting the nationalism that reigned in Croatia in the 1990s and making it pro-Western, Sanader's biographical information and his photo appeared on a Croatian police and Interpol lists of wanted persons Friday. Police searched his home as well.
The former prime minister has a company in Austria and has visited the United States to speak at Columbia University's Harriman Institute, which focuses on countries of the former Soviet Union, East Central Europe and the Balkans.
Barbara Feichtiger, a spokeswoman for the Salzburg public prosecutor's office, said Sanader's brother, an Austrian citizen, was with him at the time of arrest but was not detained.
It was unclear how long Sanader would remain in Austrian custody.
"These are formal proceedings that will take time," Feichtiger said.
In Croatia, police chief Vitomir Bijelic told RTL television there were indications Sanader was planning to travel to the German city of Munich from Austria, and from there, to the United States.
"We received information, however, that the U.S. officials turned down his request for a visa," he said.
Sanader was apprehended in his brother's car, a Volkswagen Golf with an Austrian license plate, which was headed south, Marakovits said.
Despite speculation to the contrary by some Croatian news organizations, Sanader does not hold Austrian citizenship, he added.
Croatian Foreign Minister Gordan Jandrokovic and his Austrian counterpart Michael Spindelegger both refused to comment on the arrest ahead of a meeting of ministers from Balkan nations being held in Berlin.
Several former government officials and businessmen — including Sanader's closest allies as prime minister — have been jailed as Sanader's successor, Prime Minister Jadranka Kosor, works to fight high-level corruption — a key condition for Croatia's entry into the European Union. Croatia hopes to join the bloc in 2012.
Croatian media have been speculating for months that Sanader was under investigation in Kosor's anti-graft crackdown. The opposition claims that graft was widespread in his government and that he either condoned or led it.
According to a U.S. cable published by WikiLeaks website, chief state prosecutor Mladen Bajic told the U.S. Embassy in Zagreb in January 2010 that there are several ongoing corruption cases targeting Sanader and that at least one case could lead to his indictment.
Bajic referred to one case in which Sanader allegedly arranged a bank loan for a neighbor in the 1990s in return for an 800,000-German mark (euro410,000; $542,000 at today's rates) kickback.
It also quoted Bajic as saying that, although some cases against Sanader may seem minor, "Al Capone was brought down for tax evasion rather than for his more notorious activities."
Sanader quit as prime minister at the middle of his second term, saying only that he had decided to leave politics. Kosor later removed him from her governing conservative Croatian Democratic Union, but he returned to parliament as an independent lawmaker last month.
___
Vukic reported from Zagreb. George Jahn in Vienna and Melissa Eddy in Berlin contributed to this report.