Police patrol capital after deadly Guinea violence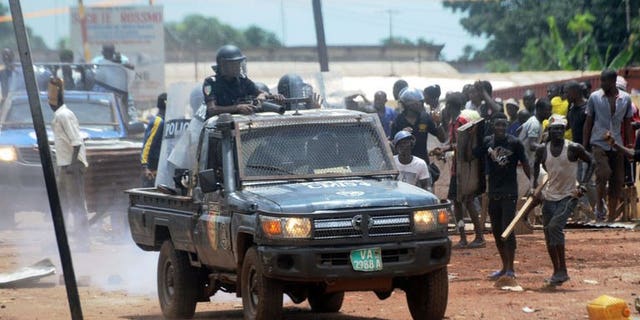 CONAKRY (AFP) – Dozens of police patrolled the streets of the Guinean capital Conakry on Tuesday after two days of pre-election violence that left a policeman dead and more than 70 people wounded.
The officers were deployed on the main thoroughfares running through opposition areas of the city with four days to go until long-delayed nationwide polls as youths looked on, sitting under trees lining the roads.
"We are quietly observing the situation. If the police provoke us or ask us to leave the side of the road, all hell will break loose again," one youth told AFP.
Opposition protesters shot dead a trainee policeman and wounded two other officers, according to the government, as violence broke out Monday in Conakry.
A government spokesman said 49 people sustained minor injuries, a day after clashes between pro- and anti-government protesters left 24 wounded.
The clashes came after the United Nations said parliamentary polls scheduled for Tuesday would be put back four days amid concerns by opposition activists over the organisation of the vote.
Some five million voters are expected to head to the polls on Saturday, with a choice of 114 candidates from 30 parties.
The vote was initially due to have been held within six months of the swearing-in of self-styled "socialist realist" President Alpha Conde in December 2010 but has been repeatedly delayed.
The west African nation's main opposition leader, Cellou Dalein Diallo, who calls himself a socialist liberal, has accused the president's camp and the electoral commission of conniving to rig the September 28 vote.
He and other opposition leaders say the commission and president have gerrymandered electoral boundaries to maximise the number of voters in areas known to be pro-government.
They have called for new boundaries to bring voters closer to polling stations and reduce the number per polling station to no more than 500.
Guinea, one of the poorest countries in the region despite vast potential for mineral exploitation, was run by a succession of autocratic rulers after gaining independence from France in 1958.
A military junta took control in 2008 at the of death of president Lansana Conte, who seized power in a coup 24 years earlier, and a caretaker regime oversaw the transition to civilian rule in 2010.
The last parliamentary elections in Guinea took place in June 2002 and more than 50 people have died since 2011 in protests over the staging of Saturday's vote.