Police: Missing Pakistani Journalist Found Dead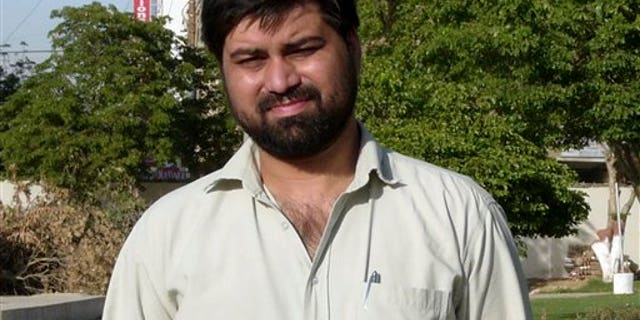 ISLAMABAD – A Pakistani journalist who investigated al-Qaida's alleged infiltration of the navy and told a rights activist he'd been threatened by the country's intelligence agencies was found dead Tuesday. Police said his body showed signs of torture.
Syed Saleem Shahzad's death underscores the dangers of reporting in Pakistan, which in 2010 was called the deadliest country for journalists. It will also increase scrutiny of Pakistan's security agencies, already under domestic pressure since the May 2 U.S. raid that killed Osama bin Laden.
Shahzad, a correspondent for the Asia Times Online as well as Italian news agency Adnkronos International, went missing late Sunday from Islamabad.
A brother-in-law identified his body after it was found some six miles (10 kilometers) from his car in Mandi Bahaudiin district outside the capital. An initial exam found signs of torture, but autopsy results were pending, police official Bilal Ahmad said.
A senior Pakistani intelligence official denied allegations that the agency had anything to do with Shahzad's case.
"It's absurd," the official told The Associated Press on condition of anonymity because he was not authorized to speak to media on the record.
The 40-year-old Shahzad dabbled in some sensitive topics, which would likely have caught the eye of Pakistan's security establishment. The country's military and spy networks operate largely outside the law and regularly try to pressure media outlets and individual reporters.
Last October, Shahzad wrote an Asia Times article that claimed that Pakistan had freed an Afghan Taliban commander who had been arrested with much fanfare so that he could "play a pivotal role in backchannel talks through the Pakistani army with Washington."
Within days, he was summoned to an office of Pakistan's premier spy agency, Inter-Services Intelligence, according to an e-mail he sent to Ali Dayan Hasan, a researcher for Human Rights Watch. Intelligence officials pressured him to reveal his sources or retract the story, but he declined.
At the end of the meeting, one of the intelligence officials issued what appeared to be a veiled threat. The official told him the agencies had recently arrested a "terrorist" who had carried a hit list, and that if Shahzad's name was on the list, he'd let him know.
Shahzad told Hasan that he was sending him the notes of the meeting for the "record only if in case something happens to me or my family in future."
Last week, militants staged an 18-hour siege of a naval base in Pakistan's largest city, Karachi. The attack further embarrassed a security establishment still reeling from the unilateral U.S. raid against bin Laden. Pakistan has protested the May 2 American incursion as a violation of its sovereignty.
Shahzad wrote a story for the Asia Times alleging al-Qaida staged the raid after talks failed with the navy over releasing some of its officials held on suspicion of ties to the terror network. The story came amid widespread suspicion that the militants in the raid had inside help.
Asia Times Online says it is a Hong Kong-based outlet with some 50 correspondents and contributors in 25 Asian countries, the U.S. and Europe.
Shahzad's wife got into touch with Hasan soon after her husband went missing Sunday, and in investigating the situation, the rights activist said he was told by some Pakistani government officials that they believed Shahzad was in the ISI's custody.
"It is absolutely essential that an independent investigation, a transparent inquiry and clear judicial process lead to those responsible for (Shahzad's) murder being held accountable," Hasan said.
He added, however, "The manner in which this killing took place echoes other documented cases in which Pakistan's intelligence services, chiefly the ISI, have been involved."
Sohail Rehman, a close friend of the family, said Shahzad was originally from Karachi and had three children. He'd worked for several news organizations and often appeared on Pakistani news channels as an analyst and terrorism expert.
According to the New York-based Committee to Protect Journalists, Pakistan was the deadliest country for journalists in 2010, with at least eight media workers killed in the line of duty.
The threats often come from militants. Six of the journalists in Pakistan were killed in suicide attacks, the group said in a report late last year.
The Pakistan Federal Union of Journalists strongly condemned Shahzad's killing, and demanded a high-level investigation. "This is tragic," said Amin Yousuf, secretary-general of the union. "We are losing our professional colleagues but the government never unearths who is behind the killing of journalists."