Police: Killing of FSU professor linked to bitter divorce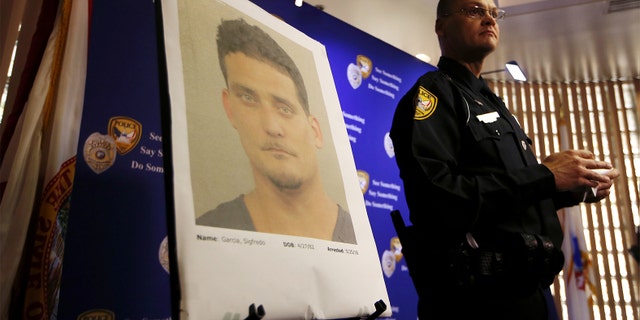 NEWYou can now listen to Fox News articles!
TALLAHASSEE, Fla. (AP) – The shooting of a Florida State University law professor in his upscale neighborhood two years ago was part of a murder-for-hire scheme that may have been set in motion by a bitter divorce between Daniel Markel and his ex-wife, according to court records released Thursday.
Sigfredo Garcia was arrested last week in South Florida in connection with the July 2014 death of Daniel Markel, who was shot in the head in his garage as he talked on his cellphone on a weekday. Garcia's lawyer, Jim Lewis, says his client will plead not guilty to the murder charge filed against him.
But a Tallahassee Police Department affidavit that was unsealed by a judge contends that Garcia did not act alone, and that his alleged involvement in the case was connected to Markel's contentious divorce from fellow attorney Wendi Adelson. It does not, however, say who is suspected of arranging the killing.
David Northway, a spokesman for Tallahassee police, said that so far no additional arrests have been made. Contacted by The Associated Press, he said investigators are "actively working" the case, but he wouldn't say anything else about the scope of their investigation or anyone under scrutiny.
Wendi Adelson has not returned phone calls made to her in the past week, but in an email she sent last Friday she stated that she hoped Garcia's arrest "will finally bring some closure" to the case. She did not respond immediately to calls and an email by The AP on Thursday.
Markel and his wife divorced in 2013, but before it was finalized court records show that the two fought over Wendi Adelson's push to move her two small children to South Florida to be closer to her family. At the time of Markel's death the two were battling over money after Adelson contended that Markel did not pay her as much as he was supposed to under their divorce agreement, the records show.
According to court documents, investigators contend that Garcia and another man followed Markel from a nearby gym before he was shot. The police document does not say if someone in the Adelson family arranged the killing. Wendi Adelson now lives in Miami Beach and works for a federal judge.
The arrest affidavit states that "investigators believe motive for this murder stemmed from the desperate desire of the Adelson family to relocate Wendi and their children to South Florida, along with the pending court hearing that might have impacted their access to the grandchildren. These new developments will finally bring some closure."
Markel's shooting in the middle of the day stunned colleagues as well as residents in the affluent Tallahassee neighborhood where he lived. He died at a hospital where he was taken after being shot.
The 41-year-old Markel, who was born in Toronto, was well known in national and international legal circles. The father of two boys and a 2001 graduate of Harvard Law School, he practiced white-collar criminal defense and civil litigation before joining the Florida State law school faculty in 2005. He was tenured in 2010.