Police kill militants, say 1 may be Indonesia's most wanted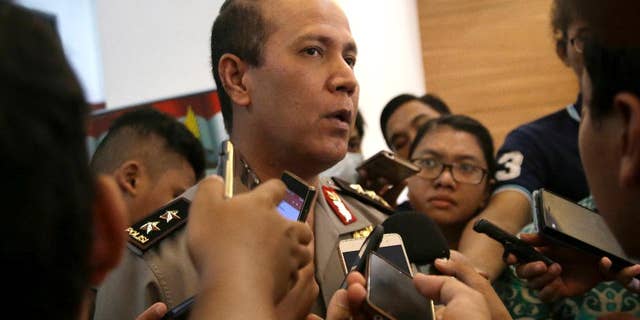 NEWYou can now listen to Fox News articles!
JAKARTA, Indonesia – Indonesian police say they killed two militants in a shootout in a remote jungle area of Sulawesi and will carry out forensic tests to determine if one of the men is the country's most wanted Islamic radical.
National Police spokesman Maj. Gen. Boy Rafli Amar said one of the bodies had characteristics including a goatee and a facial mole similar to Santoso, who leads the East Indonesia Mujahideen militant group that has claimed allegiance to the Islamic State group.
"We don't want to speculate. We need to scientifically prove that it was Santoso who was shot dead," Amar said.
The shootout occurred early Monday evening and three other militants including two females escaped into the jungle.
Santoso has eluded capture for more than five years.
Like many other Indonesian extremists, his number one enemy became the police following the break-up of a training camp in a remote mountainous jungle in Aceh in 2010 by the police anti-terrorism squad Detachment 88. Dozens of suspected militants were killed and more than 100 others arrested in the raid.
More than 2,500 security forces personnel, including elite army troops, intensified their operations this year in Poso, a mountainous district of Central Sulawesi province considered an extremist hotbed, to try to capture Santoso and his followers.