Police issue warrant for ex Maldives president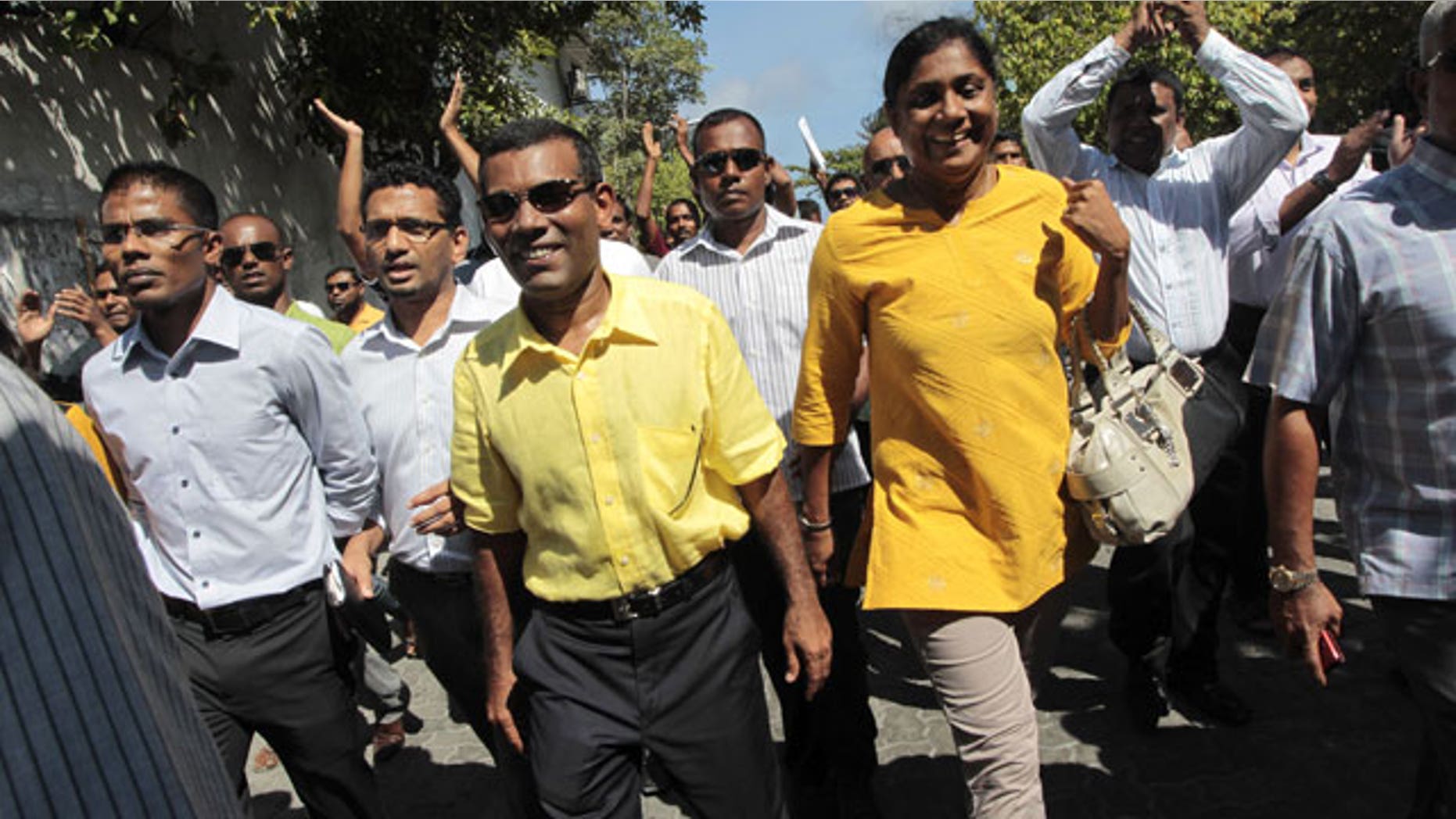 MALE, Maldives – A criminal court in the Maldives has issued an arrest warrant for former President Mohamed Nasheed, who stepped down from power earlier this week but later insisted he had been ousted in a coup, a police official said Thursday.
Police spokesman Abdul Mannan Yusuf refused to disclose the grounds for the warrant, or say when Nasheed -- who is living at his Male home, surrounded by supporters -- would be arrested. Later, Police Commissioner Abdullah Riaz said it was not clear if the warrant was constitutional. He declined to provide details, but said the warrant's legality was still being examined.
Rioters had rampaged through the streets of the Maldives capital Wednesday to demand Nasheed's return, and more had attacked police stations in remote parts of this 1,200-island archipelago nation off the southern coast of India. Nasheed says he was forced to resign Tuesday while his successor's government maintains he left voluntarily.
The dispute has plunged the mostly Muslim nation of 300,000 people into deep political turmoil that could threaten its crucial tourism industry, which relies on dozens of high-end resorts that cater to the rich and famous. The developments also raise questions about the future of a fledging democracy that only recently shed a 30-year, one-man rule with multiparty 2008 elections that brought Nasheed to power.
The city was calm but tense Thursday, with the streets of Male crowded with commuters. Police said the violence in outlying islands had stopped.
But the new defense minister vowed to punish those responsible for Wednesday's violence, calling the destruction "acts of terrorism."
"The Maldives national defense force remains vigilant in enforcing the law and order and upholding the constitution of the Maldives," Mohammed Nazin told reporters Thursday, barely 12 hours into his new job.
What really happened to Nasheed, a onetime human rights campaigner, remained unclear. He resigned Tuesday, after police joined months of street protests against his rule and soldiers defected, but insisted he had not been forced from power. He was replaced by his vice president, Mohammed Waheed Hassan.
On Wednesday, though, Nasheed said he had been ousted in a coup, and his supporters swept into the streets of Male and rampaged through a series of small, remote islands.
The new government insists there was no coup.
Maldives police commissioner Abdullah Riyaz said 18 police stations on several islands, along with an undetermined number of court houses and police vehicles, were destroyed in the violence. Police said they detained 49 people after the Male rioting.
The rights group Amnesty International put some blame on the new government, saying Maldivian security forces attacked Nasheed's supporters Wednesday, failed to protect them from counter-demonstrators and detained five members of parliament.
The rights group called on the new government to investigate the attack and ensure freedom of expression.
"The ballot should decide, not battles," Nasheed told reporters Thursday. He said he would fight in 2013 elections, and was confident he would win.
Nasheed's party insisted his ouster was engineered by rogue elements of the police and supporters of the country's former autocratic leader, whom Nasheed defeated in the Maldives' first multiparty elections in 2008. Others blamed Islamic extremists in the Muslim country where some have demanded more conservative government policies.
Hassan, who was Nasheed's vice president, denied claims there was a coup or a plot to oust Nasheed. He said he had not prepared to take over the country and called for a unity coalition to be formed to help it recover.
"Together, I am confident, we'll be able to build a stable and democratic country," Hassan said, adding that his government intended to respect the rule of law.
The military denied that it forced Nasheed to resign at gunpoint. "There is no officer in the military that would point a gun toward the president," said Brig. Gen. Ibrahim Didi. "The military did not call for his resignation, he resigned voluntarily."
Police official Abdul Mannan Yousuf promised investigations into complaints of excessive use of force.