Police investigate motives of Dutch teen brandishing fake pistol who demanded airtime on TV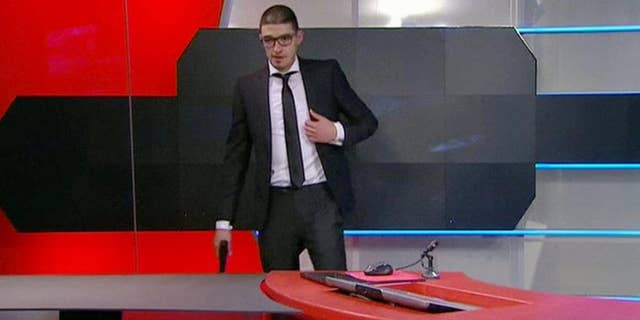 NEWYou can now listen to Fox News articles!
THE HAGUE, Netherlands – A 19-year-old student carrying a fake pistol who forced his way into the Dutch national broadcaster and demanded airtime is in custody as police investigate his motives.
Prosecutors and police have not identified the man who was seen pacing around a TV studio at the NOS broadcaster's headquarters in the city of Hilversum Thursday night holding what appeared to be a pistol with silencer. However, Dutch media widely reported his name as Tarik Z., a student at the Delft Technical University.
The incident did not appear to have links to Islamic terror. In a statement issued in the early hours of Friday, Minister for Security and Justice Ivo Opstelten said initial investigations suggested the teenager was acting alone.