Police fire on Yemeni protesters, 100 plus injured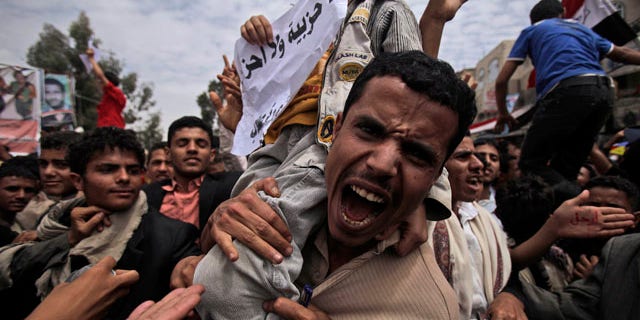 SANAA, Yemen – Police on rooftops fired live bullets and tear gas at protesters Sunday, wounding at least 100 people camping out near Sanaa University. The day's violence, which also left two dead in a southern province, was evidence that monthlong protests demanding the resignation of Yemen's longtime leader may be spiraling out of control.
Embattled President Ali Abdullah Saleh has resorted to increasingly violent tactics to try to put down the burgeoning uprising against his 32-year rule, deploying dozens of armed supporters on the streets in an attempt to intimidate protesters.
Wielding clubs and knives, police and regime supporters described by protesters as government sponsored thugs attacked activists camped out near Sanaa university, said Mohammed al-Abahi, a doctor in charge of a makeshift hospital near the university.
Among the 100 wounded Sunday in Sanaa, more than 20 suffered gas inhalation, and one was in critical condition after being struck with a bullet, the doctor said.
In the main square and in surrounding streets, witnesses spoke of people being beaten up, threatened and missing. The escalating violence came a day after security forces killed seven demonstrators in protests around the country.
In the cities of Dar Saad and Sheikh Othman in the southern province of Aden, medical officials said two protesters were shot dead and three others wounded as police tried to disperse demonstrations. Earlier in the day, protesters torched three police cars in Dar Saad and blocked roads to try to stop security troops from bringing in reinforcements.
The United States said it was concerned by the continuing violence in Yemen and appealed for it to stop.
"We call on the Yemeni government to quickly investigate these incidents," State Department spokesman P.J. Crowley said Monday. "People everywhere share the same universal rights to demonstrate peacefully and to freely assemble and express themselves."
Unfazed by the violent tactics, young activists camped out in the square near the university continued to expand the area of their sit-in and threatened to march on the presidential palace about 3 miles (5 kilometers) away. Rock throwing battles between protesters and security troops broke out on the edges of the encampment.
Activists said the authorities were trying to draw the protesters into a cycle of violence to further justify a crackdown.
"This will not happen, even if they exterminate us all, our only weapon is peaceful sit-ins," said activist Abdel-Karim al-Khiwani.
Protesters continued to pour into the main square Sunday, but many said they were stopped by thugs wielding iron rods, sticks, knives and machetes.
Mohammed Abdel-Qader, a 27-year-old university student, said he was on a nearby street walking with a friend toward the square when two men armed with sticks and knives stopped them and told them they could not proceed to the university area for security reasons.
"When I tried to ask about the security reasons, he held up his stick menacingly and said: 'It's none of your business, go back where you came from'," he said.
In the Aden province, demonstrators stormed a police station, seizing weapons after the police fled, witnesses said. In Taiz province, clashes between demonstrators and police left at least four wounded, witnesses said.
Yemen has been hit by constant protests since mid-February. Even before that, the country's government was weak and struggling to confront one of the world's most active al-Qaida branches, a secessionist rebellion in the south and a Shiite uprising in the north.
The protests are part of a wave of unrest sweeping the region. Yemen's demonstrators are calling for Saleh to step down, a demand he has repeatedly rejected while also trying to assuage opposition groups.
Saleh has said he would not seek another term in office in 2013, and offered to form a national unity government with opposition figures. These overtures have failed to satisfy the protesters.
On Sunday, Saleh sacked a close relative from a senior military post. The relative later announced his support for the protests.
Maj. Gen. Abdel-Illah al-Qadi told reporters he planned to visit protesters in Sanaa later Sunday. Al-Qadi's son, Mohammed, resigned earlier from the ruling Congress Party.
Resigned parliament member Abdel-Bari Degheish said a protester in Aden died Sunday from wounds he suffered a day earlier, bringing to seven the number of those killed during Saturday's demonstrations.