Poland's Kaczynski claims victory in general election, though he won't be prime minister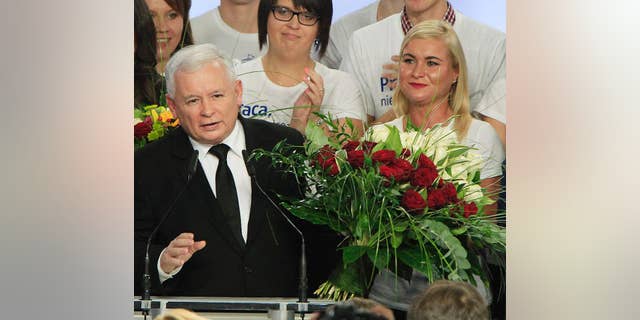 WARSAW, Poland – Jaroslaw Kaczynski, the populist Polish leader who has suffered years of political setbacks and personal tragedy, made a dramatic comeback when his conservative Law and Justice party won a decisive victory in a parliamentary election.
Kaczynski, dressed in the trademark black suit and tie that he has worn since the death of his twin brother, President Lech Kaczynski, in a plane crash in 2010, said he plans to follow a moderate course, an indication he is abandoning his divisive style of the past.
"We will exert law but there will be no taking of revenge," Kaczynski said after polls closed Sunday night. "There will be no kicking of those who have fallen of their own fault and very rightly so."
When Law and Justice last held power a decade ago, there was a lot of turmoil domestically as Kaczynski sought revenge on his political foes and on former communist collaborators. Ties became strained with the country's European partners, particularly Germany, with Kaczynski focusing heavily on Poland's historical grievances against Germany and Russia.
His government, formed with two small, fringe parties, collapsed after just two years and for a time it seemed Kaczynski would stay in the political wilderness. Even in 2010, just after his brother's death, he was defeated in his bid to take his brother's job, his negative image outweighing the huge outpouring of sympathy he had at the time. The party was again trounced in the previous parliamentary election, in 2011.
On Sunday, back in the limelight, he appealed to political opponents to come together in the spirit of national unity to change the country for the better.
"There should really be a lot of us because our tasks are huge and extremely difficult," he said.
According to an exit poll released early Monday, Law and Justice won 37.7 percent of the votes, trouncing the governing pro-business Civic Platform, which took 23.6 percent. Official results are expected later Monday.
The results must still be confirmed but it appeared that Law and Justice has a chance to form a majority government. With a president backed by Law and Justice already in office since the summer, the party would be in the strongest position yet to put forth a vision for Poland that mixes conservative Catholic values with more help for the poor.
Most of the power in Poland rests with the government, headed by a prime minister, but presidents enjoy veto power, and having one party control both offices gives it greater leeway to make change.
During the campaign, Law and Justice sharply criticized the outgoing pro-market government, accusing it of favoring big corporations and ignoring those Poles who have not thrived despite years of economic growth since the transition from communism to capitalism was launched 26 years ago.
In another sign of the country's decisive shift to the right, no left-wing party appeared to make it into parliament at all, meaning that the former communists — who managed to hold onto some power even after 1989 — have finally been booted from the halls of parliament in Poland.
Kaczynski paid tribute to his brother in the victory.
"We would not be here without him, Law and Justice would not exist without him, all those who are against the establishment would not have a chance," he said.
He recalled the elections of 2005 when Lech won the presidency and Law and Justice also won the parliamentary election. At the time, Lech turned to his brother, and said "Mr. Chairman, mission accomplished."
"So today, I am reporting: Mr. President, mission accomplished," he said, as his voice tightened slightly.
But the win is not a complete fulfilment of Kaczynski's ambitions. His strategy for winning involved making another leader of his party, 52-year-old Beata Szydlo, the candidate for prime minister, an acknowledgement of how his past divisiveness turned many Poles away from him.
Szydlo signaled a desire for cooperation with other members of the 28-member European Union, denying that the party is Euroskeptic while also stressing that she wants Poland to have a strong role within the bloc.
"We are very pro-European," she said. "But at the same time we stress ... that we must protect the interest of Polish businesses and Poland's economy on the international arena."
The party opposes adopting the euro currency and is strongly anti-migrant, positions that are expected to have a broader impact on the 28-nation EU, of which Poland is a member.
During the campaign Kaczynski said that migrants could carry dangerous diseases to Europe, words that sparked sharp accusations that he was using language similar to that of Nazi Germany.
If the exit poll results are confirmed, Law and Justice will take 232 seats in the 460-seat lower house of parliament. The party that headed the previous government, Civic Platform, will get 137 seats and only three other parties will make it into parliament — two of them for the first time.
Law and Justice has promised to reverse an unpopular rise in the retirement age and put more money into the pockets of struggling families, with tax breaks, monthly cash bonuses for children under 18 and free medication for people over 75. It also wants to raise taxes on the mostly foreign-owned banks and big supermarkets in Poland and give tax breaks to smaller local businesses and those that adopt Polish technologies.
Civic Platform had led the country through a period of strong economic growth and political stability, even during the global financial crisis of 2008-09 and the plane crash in Russia that killed the president and dozens of the country's top leaders. But the presidential vote in May signaled problems for Civic Platform when Law and Justice candidate Andrzej Duda edged out their incumbent.
Law and Justice's electorate has been typically made up of older Poles, people in rural areas and those who are less educated and struggling financially.
However, in a sign of its widening support, Polish media reported that a growing number of educated Poles now support the party.
Backing from the Roman Catholic Church has led to some fears that Law and Justice will try to ban in vitro fertilization and impose a total ban on abortion.
Currently, abortion in Poland is allowed only in cases of rape, when the mother's life is at risk or when the fetus is damaged.