Poland sees chance for compromise with EU on its judiciary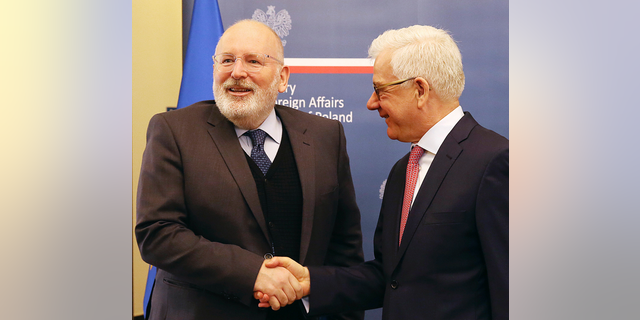 NEWYou can now listen to Fox News articles!
WARSAW, Poland – An aide to Poland's president says a compromise is possible with the European Union over changes Poland's conservative government introduced to the judiciary.
The EU triggered a process in December that could lead to punitive measures against Poland, saying the judicial changes threatened the rule of law. Poland argues the justice system needs to be more efficient.
European Commission Vice President Frans Timmermans was meeting with Poland's politicians and top judges Monday to see what steps Poland has taken to address the EU's concerns.
Presidential aide Krzysztof Szczerski said he and Timmermans had a "very good meeting" and a "compromise is possible."
Poland's ruling party has proposed restoring some control over the courts to judicial bodies.
However, Deputy Foreign Minister Konrad Szymanski says Poland will not agree to "compromise at any price."