Plane crash kills 15 in Nepal mountains; 6 survive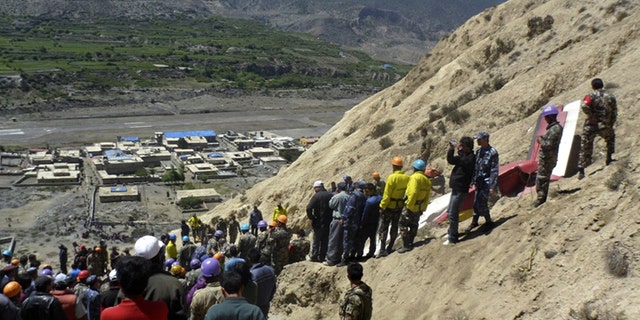 NEWYou can now listen to Fox News articles!
KATMANDU, Nepal – A plane crashed into a mountain in the Himalayas while trying to land at an airport in northern Nepal on Monday, killing 15 people and injuring six, some critically.
It was carrying two pilots and a flight attendant — all Nepalese — along with 16 Indians and two Danish citizens, both of whom survived, officials said.
Television footage showed the Danes being taken inside a hospital in the nearby city of Pokhara, the man being led on foot and the woman crying in pain as she was carried on a stretcher.
The plane was turning to land at Jomsom Airport when it crashed, said Laxmi Raj Sharma, chief government administrator in the area.
It broke into pieces but did not catch fire. Sharma said an initial investigation indicated the Dornier aircraft, which belonged to the local Agni Air company, might have had technical problems.
Rescue was swift because the plane crashed just few meters (yards) from an army camp at Jomsom.
The Danish tabloid Ekstra Bladet said it spoke to the Danish passengers by phone at the hospital and identified them as Emilie Joergensen and Andreas Rasch.
"We were thrown around. The seats were unfastened and we were squeezed between seats and bodies," it quoted Joergensen as saying.
She said they had to climb over "hands and arms" to get out of the plane.
"I think it was easy for us to get out because we sat in the back and were closest to the exit," Joergensen said.
She said they were on their way to Jomsom where they planned to go trekking.
The Jomsom airport is a gateway to a popular destination for trekkers and for Hindu pilgrims on their way to the revered Muktinath temple. It is about 200 kilometers (125 miles) northwest of Katmandu.
Nepalese Prime Minister Baburam Bhattarai expressed his condolences over the deaths.
___
Associated Press writer Jan M. Olsen in Copenhagen contributed to this report.