Pirates may have hijacked missing oil tanker in Gulf of Guinea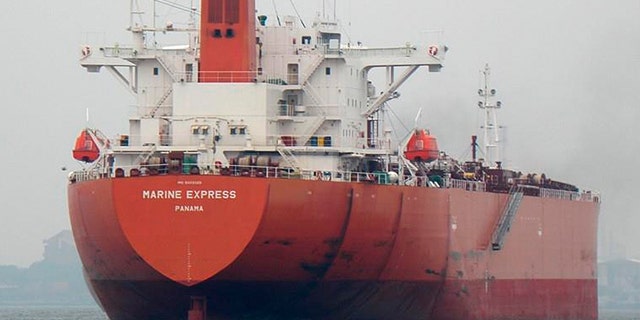 NEWYou can now listen to Fox News articles!
An Indian-owned oil tanker that vanished Thursday off the coast of the West African country of Benin may have been hijacked by pirates, and officials Sunday pleaded for help finding the vessel.
India's External Affairs minister Suchma Swaraj confirmed late Sunday the tanker, Marine Express, disappeared in the Gulf of Guinea with 22 Indian crew members on board.
"Merchant Ship Marine Express with 22 Indian nationals is missing off the Coast of Benin in the Gulf of Guinea," Swaraj wrote on Twitter. "We are making all out efforts in coordination with Nigerian and Benin naval authorities to trace the missing ship."
On Monrday, Swaraj wrote she has spoken to the foreign minister of Nigeria, who has " promised all help and assistance in locating the missing ship."
It is unclear whether the ship was hijacked for ransom, or to steal the nearly 15,000 tons of gasoline on board.
The ship, owned by a Mumbai company, has been missing since Feb. 1 and no contact has been made with the crew so far, according to Indian media reports.
The ship's Mumbai-based manning agent, Anglo-Eastern Ship Management, confirmed on Twitter it had lost contact with the vessel.
"We regret that contact has been lost with the AE-managed MT Marine Express while at Cotonou, Benin. Last contact was at 03:30 UTC, Feb 1," the company said. "Authorities have been alerted and are responding. Our top priority is the safety of the crew, whose families have been contacted."
According to tracking data, the last contact with the vessel was while it was anchored at Cotonou, Sky News reported.
SHIP HIJACKED AND THEN FREED BY SOMALI PIRATES, AT SAFE PORT
In January, another oil tanker, MT Barret, went missing off Benin. That crew of 22, mostly Indians, was released within days after a ransom was paid to the pirates who hijacked the tanker, the Press Trust of India news agency said.
Ship hijackings and kidnappings of crew are common in the region, with hostages often released unharmed after a ransom is paid. Bandits usually target oil tankers and sell the crude.
International efforts have brought down the threat of piracy off Somalia's coast in recent years. Concerns about piracy off Africa's coast have now largely shifted to the Gulf of Guinea.
The Associated Press contributed to this report.