Pierce blocks Lowry's shot on final play as Nets hold on, edge Raptors 104-103 in Game 7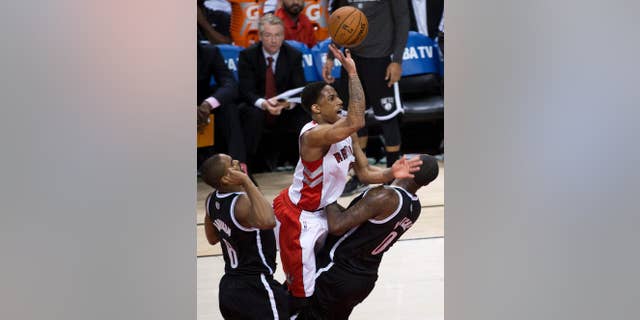 TORONTO – Paul Pierce blocked Kyle Lowry's shot from the lane on the final play of the game, and the Brooklyn Nets held off the Toronto Raptors 104-103 in Game 7 on Sunday to advance to the second round of the playoffs.
The Nets will begin the conference semifinals at Miami on Tuesday night to play the two-time defending NBA champion Heat.
Leading by one point, Brooklyn used its final timeout after failing to inbound the ball. On the second opportunity, Livingston tried a lob pass to Pierce but Terrence Ross got a hand on the ball, then knocked it off Pierce and out of bounds for a turnover.
Toronto used a timeout and gave the ball to Lowry, whose driving shot was blocked by Pierce as time expired. Lowry lay prone in the key as the Nets surged onto the court in celebration.