Philippines set to keep troops in Golan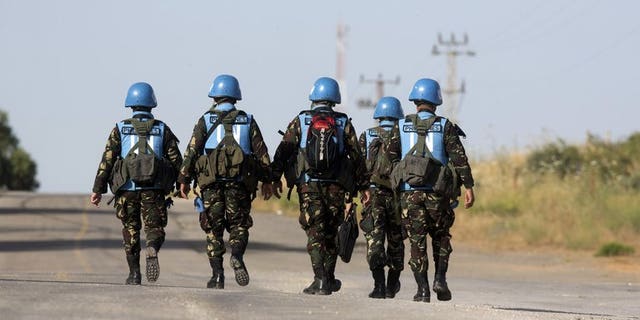 NEWYou can now listen to Fox News articles!
MANILA (AFP) – The Philippines said Wednesday it would likely keep its 340 soldiers in the Golan Heights as part of a United Nations peacekeeping force, amid improved security for the troops.
Foreign Secretary Albert del Rosario told reporters the UN was close to fulfilling three conditions on upgrading safety set by the Philippines that would allow the Filipino soldiers to stay beyond August 11.
"The conditions look fine to me," del Rosario said, adding he had recommended to President Benigno Aquino that they stay for at least another six-month mission.
"I still have to go back to the president for his blessing but I don't think it will be a problem."
The Philippines is one of the major contributors to the UN Golan force, which has been monitoring a ceasefire between Syria and Israel there since 1974.
Other countries have pulled out their contingents as violence from the Syrian civil war has spilt over into the area.
The Philippines said in May that it was considering withdrawing, after two groups of Filipino troops were briefly kidnapped by Syrian rebels in separate incidents.
Both groups were released unharmed, but the wounding of another Filipino soldier from shelling in June added to the security concerns.
Del Rosario said one of the three conditions set by the Philippines was that the total peacekeeping force return to its regular strength of 1,250 soldiers.
Another was extra military equipment for the soldiers, and the third was that the Philippines be able to review the mission every six months.
Del Rosario said he was confident the numbers in the peacekeeping force would climb to 1,250 by October.
Fiji has already emerged in recent months as a saviour for the peacekeeping force, agreeing to deploy 562 soldiers.
Del Rosario also said the UN had committed to the extra military equipment. And he said the Philippines was allowed to review its mission every six months, rather than annually, until at least 2015.
The Philippines was due either to extend its mission, or withdraw, on August 11.